Smith MBA ranked among Top 75 in the world
Posted on February 13, 2023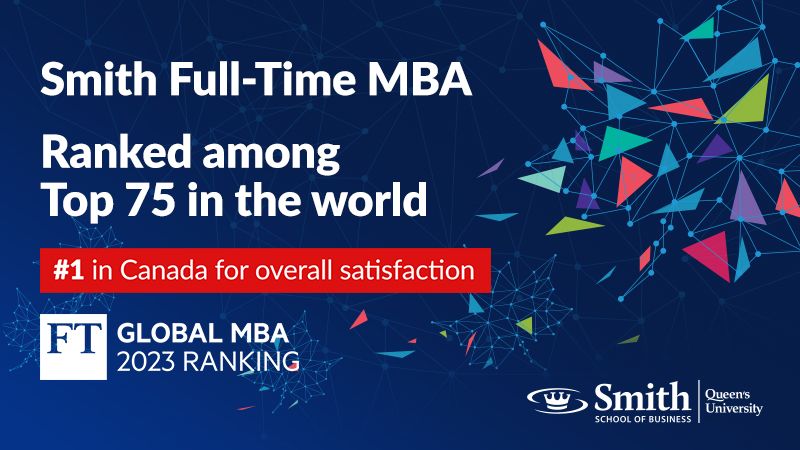 #1 in Canada for overall satisfaction,
career services and value for money 
according to FT
Kingston, Ont. – The Financial Times has ranked the Full-Time MBA at Smith School of Business in the top 75 in its annual ranking of global MBA programs.
For the third consecutive year, Smith was No. 1 in Canada for overall satisfaction with the program, as rated by alumni three years post-graduation. Smith also ranked first in Canada and 25th in the world for career services, which includes career coaching, personal development, and network building.
"This recognition by the FT is the result of our program's commitment to provide an outstanding learning experience year over year to our students," said Matthew Reesor, Director, Smith MBA. "A great MBA experience goes beyond the classroom, and that's why we offer a highly personalized approach that allows students to build the right program to help them reach their individual career goals."
This year Smith ranked first in Canada for value for money and alumni network, which includes the effectiveness of the school's alumni network for career opportunities, starting companies, gaining new ideas and recruiting staff. Smith moved up 14 spots in the international course experience rank, reflecting international exchanges and internships completed by students. The university's carbon footprint rank was tied for No. 1 in Canada, and was 40th worldwide.
The Financial Times Global MBA ranking is based on three categories of criteria: career progress; diversity; and research and environmental, social and governance (ESG). Data is collected from a survey of schools, a survey of students and a survey of alumni three years after graduation.
Smith ranked 71st in the world, up 28 spots from 2022. Four Canadian programs made the 2023 ranking. View the full FT 2023 Global MBA ranking.