Smith celebrates research excellence
Posted on February 3, 2023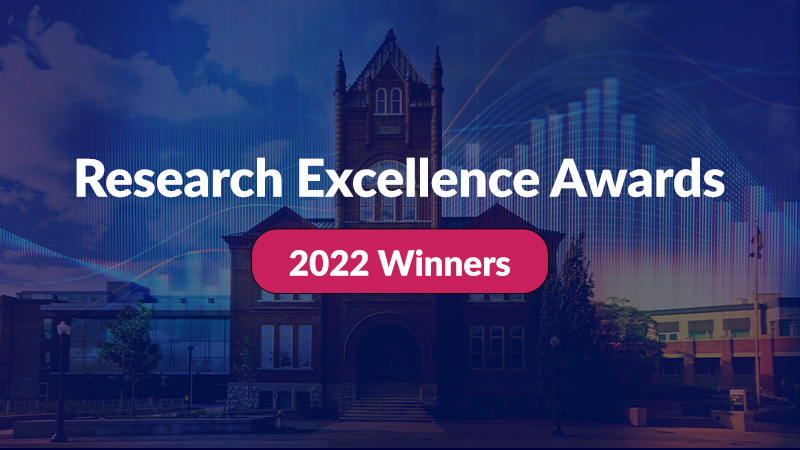 Kingston, Ont. – Three faculty and three PhD students are recipients of the Smith School of Business Research Excellence Awards for 2022.
Among faculty, Pierre Chaigneau won the school's Award for Research Excellence and Murray Lei received the New Researcher Achievement Award. Lynnette Purda was recognized with the Research Supervision Award.
Among students, Neal Willcott won the PhD Student Research Excellence Award. Antoine Grenier Ouimet and Michaela Scanlon each received the New PhD Student Research Excellence Award.
The annual awards recognize Smith professors for research and supervision. Students are awarded for their academic progress and demonstrated research potential. Winners in each category are selected by panels comprised of Smith faculty.
Faculty awards
Pierre Chaigneau, recipient of the Award for Research Excellence, is the Commerce '77 Fellow of Finance. He studies the use of information in corporate finance and governance systems.
"I find it especially interesting to study how different types of information—for example, market measures of performance versus soft information generated within the firm—will be used, and their combination into a corporate governance system," he says.
A paper he published in the Journal of Accounting Research compared "hard information" (or measurable metrics such as financial data) with "soft information" (such as monitoring of management by the board and equity market analysts). Chaigneau and his co-author wanted to know whether or not the two types of information complement each other in a way that helps firms gauge managerial performance.
The New Researcher Achievement Award recognizes the work of a pre-tenure faculty member. Murray Lei, 2022 recipient, joined the Smith faculty in 2018 and is an assistant professor of management analytics.
He studies revenue and supply chain management to solve real-world problems in retail and on-demand service platforms. More recently, he says, "I've become interested in understanding how to better align data-driven analytics with societal values, especially privacy, fairness and sustainability."
An example of such research is a paper he co-wrote looking at the tradeoffs between consumer privacy and the personalized data-driven tactics that companies increasingly use to attract customers.
The Research Supervision Award is open to all faculty who supervised Smith PhD or MSc students for three or more years during the past five years. After she won, Lynnette Purda learned that both her current students and graduates from the last five years had written to support her nomination. "That's completely overwhelming to me—that all of them came together to do this. It makes me extremely grateful for the wonderful colleagues that they've become," she says.
Purda, who is the RBC Fellow of Finance, says she enjoys working with graduate students because of the energy they bring to their work. "They see everything from a fresh perspective and this helps sustain my own creativity and enthusiasm."
Dimitri Hadjistavropoulos, MSc'22, PhD'27, says Purda takes great care in helping students develop as academics. "She works closely and consistently with us on every step of the research process," he says. "And she's very supportive with course work, making sure that we always have the necessary support to balance course work with research." She has also encouraged many of her students to challenge themselves by presenting ongoing work at conferences or seminars, he adds.
Student awards
Neal Willcott, PhD'23, winner of the PhD Student Research Excellence Award, works in sustainable finance, studying the effect of climate policy and disclosures on macroeconomic and firm-level outcomes.
A paper he wrote last year with Professor Sean Cleary (his supervisor), examined the cost of delaying Canada's investment toward a net-zero, green economy. They found that the physical damages of climate change down the road will be more costly than making appropriate investments in climate mitigation today.
"My research is very interesting because of its relevance to the academic community and the general public," Willcott says. "Everyone wants to talk about climate change and the economy because it influences our everyday lives."
Michaela Scanlon, MSc'21, PhD'26, winner of the New PhD Student Research Excellence Award, studies mental health stigma and leadership at work. "I hope to contribute to a deeper understanding of stigma in the workplace and the fight to normalize mental illness," she says.
A paper she co-wrote with Professor Julian Barling (her supervisor) that's out for review with the Journal of Applied Psychology explores the effects of bottom-up mental health stigma for followers.
"Across two studies we found that when followers stigmatize leaders who are experiencing mental illness, it has consequences for their own motivation and performance," she says.
Antoine Grenier Ouimet, PhD'25, also won the New PhD Student Research Excellence Award. He studies the effects of computing advances on humans and their ability to act effectively.
An example of his work is an International Conference on Information Systems paper that he wrote with Professor Shamel Addas (one of his two supervisors; the other is Professor Jane Webster). In it, they identified key dimensions to understand the emergence of outcomes when studying or implementing human-machine configurations for decision-making.
"Such research is critical as new algorithmic systems have become autonomous agents that learn from, collaborate with, and even manage humans, and we are just starting to understand the implications of this," he says.