Five Team Canada athletes to join Smith graduate programs
Posted on

September 26, 2023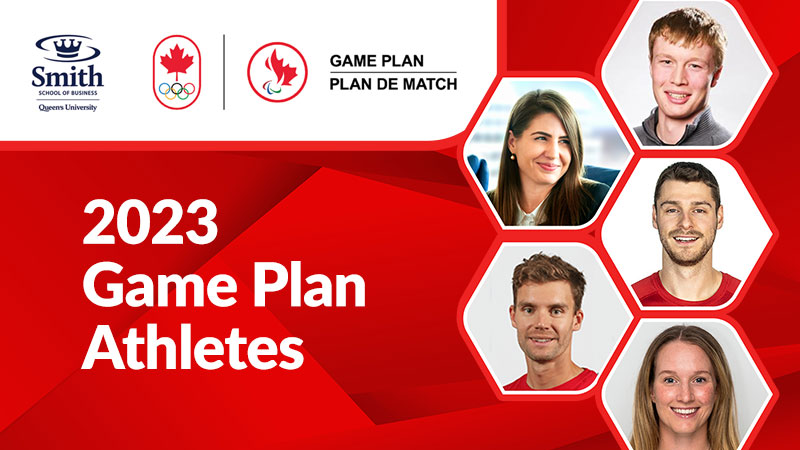 TORONTO/KINGSTON – This Winter, five exceptional Team Canada athletes will join the Full-time MBA, Accelerated MBA and Master of Management Analytics programs at Smith School of Business.  
In conjunction with the Canadian Olympic Committee (COC) and Game Plan, Smith is pleased to announce the following athletes have earned Game Plan Awards to pursue their degrees:  
· Aaron Nusbaum, Beach Volleyball (Accelerated MBA)  
· Kelby Halbert, Alpine Skiing (Accelerated MBA) 
· Ali ten Hove, Sailing (Full-time MBA)  
· Mat Bilodeau, Athletics (Master of Management Analytics)  
· Leslie Lewis Westhaver, Kayak (Master of Management Analytics) 
"High-level athletes thrive in Smith's team-based learning environment and high-performance coaching culture; they also help other students do the same," said Wei Wang, Associate Dean, Professional Graduate Programs. "Together with Game Plan, Smith is proud to empower Canada's national team athletes with essential business skills for success in the corporate world and beyond."  
These successful applicants will join a network of elite Canadian athletes who have been granted academic awards since Smith became the exclusive business education partner of the COC in 2016. Smith's academic awards are one component of Game Plan, Canada's total athlete wellness program that strives to support national team athletes to excel in and out of sport.  
"This is one of Game Plan's more popular program offerings," said Cara Button, Senior Manager, Game Plan. "By nature, our athletes are looking for a high-performance environment to pursue their academic goals. I can't think of a better place to do so than Smith School of Business."  
About Smith School of Business:  
Smith School of Business at Queen's University is renowned for its excellence, innovation and leadership in business education. From establishing the first undergraduate business degree over a century ago to creating groundbreaking programs and courses in emerging areas, Smith is at the forefront of preparing students for the business marketplace. In addition to its rich tradition of academic and teaching excellence, Smith is known for delivering an outstanding learning and development experience. Personal attention, individual and team coaching, opportunities for specialization and a deep commitment to student success characterize the Smith experience.  
About Game Plan: 
Game Plan, powered by Deloitte, is Canada's total athlete wellness program that strives to develop holistic, well-rounded individuals that excel in and out of sport through a fully integrated program where long-term personal, educational, and professional achievement does not come at the expense of athlete wellbeing. Game Plan supports athletes on and off the field of play, and equips them to stay in sport longer, perform better, and retire healthier knowing they have the tools to prepare and be positive members of their communities at all stages of their career. 
Game Plan is a collaboration between the Canadian Olympic Committee (COC), Canadian Paralympic Committee (CPC), Sport Canada and Canadian Olympic and Paralympic Sport Institute Network (COPSIN) to provide the best resources this country has to offer to our national team athletes – a team that has given so much and inspired so many.  
About the Canadian Olympic Committee: 
The Canadian Olympic Committee believes sport has the power to transform Canada. We achieve this by leading the achievement of Team Canada's podium success and by promoting Olympic values through the Team Canada Impact Agenda. Together with our partners, the COC is committed to making sport safe, inclusive and barrier-free so more young people can play and stay in sport. Learn more at olympic.ca.