Five Team Canada athletes join Smith graduate programs
Posted on September 27, 2022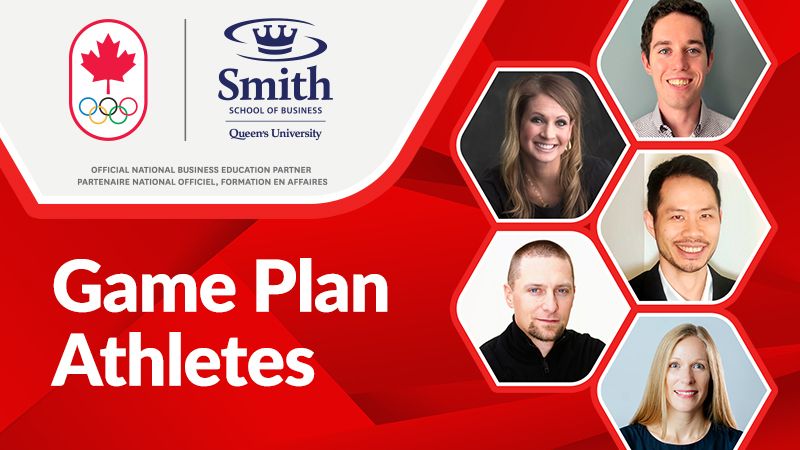 TORONTO/KINGSTON (September 27, 2022) – This January, the Smith community will welcome a new cohort of Team Canada athletes to the business school's Accelerated MBA and Master of Management Analytics programs.
Smith School of Business and the Canadian Olympic Committee (COC) announced that five Olympic and Paralympic athletes have earned Game Plan Awards. The five recipients are:
· Matthew Hallat, Para Alpine (Accelerated MBA)
· Meaghan Reid, Ice Hockey (Accelerated MBA)
· Jilliane Portelli, Volleyball (Accelerated MBA)
· Toby Ng, Badminton (Master of Management Analytics)
· Jérémie Venne, Para Athletics (Master of Management Analytics)
"High-level athletes are determined, collaborative and resilient. These characteristics allow them to thrive in Smith's team-based learning environment and make a positive impact on their classmates," said Dean Wanda Costen. "In partnership with Game Plan, Smith is proud to support Canada's national team athletes in growing the skills they need to excel in the ever-changing business landscape."
These successful applicants will join a network of elite Canadian athletes who have been granted academic awards since Smith became the exclusive business education partner of the COC in 2016. Smith's academic awards are one component of the COC's Game Plan, Canada's total athlete wellness program that strives to support national team athletes to live better and more holistic lives.
"It has been more than five years since we first started offering these awards to athletes, and every year we see an increased interest level," said Cara Button, Senior Manager of Game Plan. "We know that participation in high level sport helps develop strong leadership traits. Game Plan is proud to have a partner interested in supporting athletes round out their skill set as they move away from the field of play and into the corporate world."
About Smith School of Business:
Smith School of Business at Queen's University is renowned for its excellence, innovation and leadership in business education. From establishing the first undergraduate business degree over a century ago to creating groundbreaking programs and courses in emerging areas, Smith is at the forefront of preparing students for the business marketplace. In addition to its rich tradition of academic and teaching excellence, Smith is known for delivering an outstanding learning and development experience. Personal attention, individual and team coaching, opportunities for specialization and a deep commitment to student success characterize the Smith experience.
About the Canadian Olympic Committee:
The Canadian Olympic Committee leads the achievement of Team Canada's podium success and advances Olympic values across Canada. Independent and predominantly privately funded, the COC delivers the resources that Canada's elite athletes need to perform at their best and give their everything every day. By sharing our athletes' stories, we inspire all Canadians through the power of sport: 24 hours a day, 7 days a week, 365 days a year.