Ten Team Canada athletes to join Smith graduate programs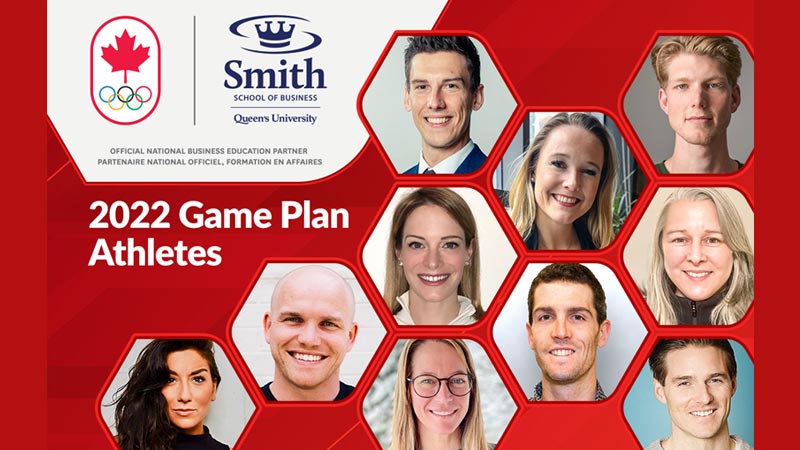 Toronto/Kingston, Ont. – Today, Smith School of Business and the Canadian Olympic Committee (COC) announced that ten Team Canada athletes will be welcomed into the Smith family.
After years of elite-level sport, the athletes joining Smith have been granted Game Plan Awards to return to school and build their business acumen across three Smith graduate programs: Executive MBA Americas, Master of Management Innovation & Entrepreneurship and Executive MBA. They are:
"This new wave of award recipients includes Olympic, Paralympic and national-level athletes from ten different sports. All determined leaders and team players, these high-performance athletes will continue to make an impact on the business landscape today," said Dean Wanda Costen. "Join me in cheering on this new class of Team Canada athletes as they make their mark."
Smith's academic awards program is one component of the COC's Game Plan, which empowers Canada's national team athletes to pursue excellence by helping them plan for their careers after competitive sport.
About Smith
Smith School of Business at Queen's University is renowned for its excellence, innovation and leadership in business education. From establishing the first undergraduate business degree over a century ago to creating groundbreaking programs and courses in emerging areas, Smith is at the forefront of preparing students for the business marketplace. In addition to its rich tradition of academic and teaching excellence, Smith is known for delivering an outstanding learning and development experience. Personal attention, individual and team coaching, opportunities for specialization and a deep commitment to student success characterize the Smith experience.
About the Canadian Olympic Committee
The Canadian Olympic Committee leads the achievement of Team Canada's podium success and advances Olympic values across Canada. Independent and predominantly privately funded, the COC delivers the resources that Canada's elite athletes need to perform at their best and give their everything every day. By sharing our athletes' stories, we inspire all Canadians through the power of sport: 24 hours a day, 7 days a week, 365 days a year.
Media Contact
Julia Lefebvre
Communications Manager, Smith School of Business
julia.lefebvre@queensu.ca