Smith welcomes four new faculty
Posted on August 16, 2022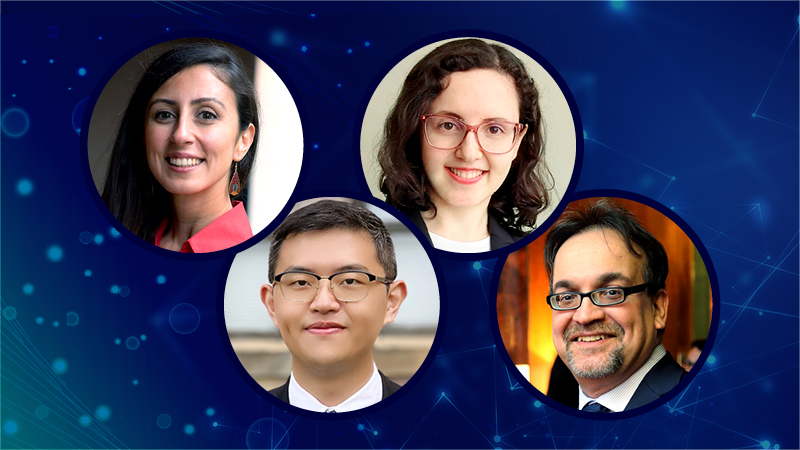 Kingston, Ont. – Over the summer, Smith School of Business welcomed four new faculty to its outstanding roster of teachers and researchers. They are: Ekin Ok, Vedat Verter, Gongtai Wang and Nasrin Yousefi.
Together, they bring expertise in management analytics, marketing and digital transformation to the school. Here's more about all four:
Ekin Ok
Assistant Professor of Marketing
Ekin Ok grew up in Izmir, Turkey and earned two degrees at Sabanci University in Istanbul before moving to Canada in 2011. Settling in Vancouver, she enrolled at Sauder School of Business where she earned a master of management degree and a doctorate in marketing and behavioural science. She arrived at Smith in July and will teach marketing in the Commerce program.
Ok studies consumer behaviour, specifically how a person's self-concept and relationships with others affect what they buy. "I think it is fascinating to explore the ways in which people's views of themselves, as well as how they aspire to be perceived by others, influence their marketplace decisions, such as which products and brands they want to buy—or avoid—the causes they support and how they interact with salespeople," she says.
Vedat Verter
Professor of Management Analytics
Before he started at Smith in August, Vedat Verter was the John H. McConnell Chair of Business Administration at the University of Michigan and chaired that university's department of supply chain management. He grew up in Istanbul and earned his doctorate in industrial engineering at Bilkent University in Turkey.
Verter studies health-care analytics, sustainable operations and service-chain design. "I specialize in the use of operations research methods for assisting decision-makers and policy-makers in the public sector," he says. As an example, he recently examined how to better manage hospital resources during a pandemic, developing an analytical framework to study how hospitals can deploy resources more effectively. At Smith, he will teach Commerce, Full-time MBA, MSc and PhD students.
Gongtai Wang
Assistant Professor of Digital Technology
Gongtai Wang has earned three degrees in three countries: a bachelor of management in China (where he grew up in Dalian), a master of system engineering in Japan, and a PhD in information systems and management in the U.K. Before arriving at Smith in July, he was a postdoctoral research fellow at the University of Queensland in Australia.
Wang studies digital innovation. His focus: the redesign of traditional products, services and business models with emerging digital technologies. "My research seeks to advance the idea that digital product innovation is more than digital components and product functionality but also requires careful design considerations of physical components and product meaning."
Wang will teach in Smith's new Master of Digital Product Management program and also in the Commerce and MSc programs.
Nasrin Yousefi
Assistant Professor of Management Analytics
Nasrin Yousefi grew up in Iran. She lived there until she was 22, earning a bachelor's degree in industrial engineering. Eventually, she came to Canada where she earned her doctorate in industrial engineering from the University of Toronto before joining Smith's faculty in July. She will teach Commerce students, starting in the winter term.
In her research, Yousefi applies data analytics and optimization tools in health-care systems. She recently measured how the journey of colon and breast cancer patients in Ontario stacks up to recommended guidelines. Her findings: only a tiny percentage of patients follow their health-care guidelines exactly. That insight, and a metric she created, can help lead to solutions for patients and hospitals. "It motivates me to know that my work can help improve people's lives," she says.