Smith hosts business camp for local Indigenous youth
Posted on

July 28, 2022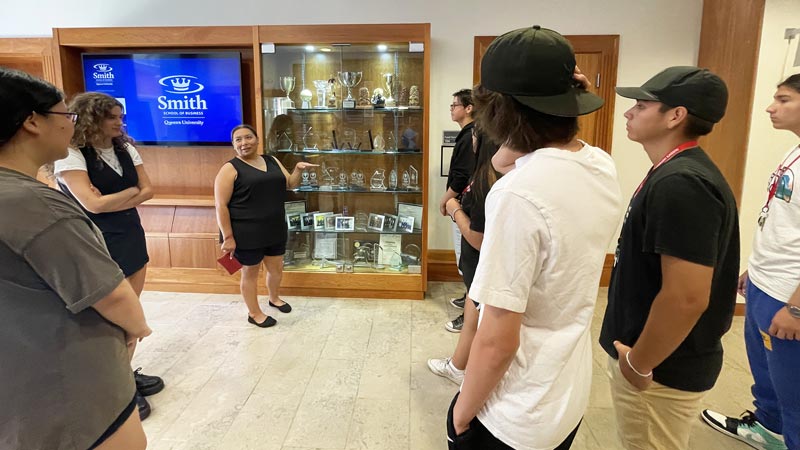 Kingston, Ont. – Nine high school students from a local Indigenous community had the opportunity to immerse themselves in university life as part of a summer camp hosted by Smith School of Business July 19-22.
Ignite Your Future is a four-day immersive experience that saw students from the Mohawk territory of Akwesasne explore opportunities available at Smith and Queen's. The program was co-ordinated by the Smith Commerce program in conjunction with Smith's Centre for Social Impact (CSI), the Queen's Enrichment Studies Unit, and Akwesasne Career & Employment Support Services.
"Guided by the Truth and Reconciliation Commission, this camp was designed to strengthen Smith's relationships with local Indigenous communities and to show students the career opportunities available with an education in business and other fields of study," says Ann Deer, Indigenous Recruitment and Initiatives Co-ordinator. "Inspiring and increasing participation in post-secondary education is one way we can break down colonial barriers to successful careers in business for Indigenous people."     
Past years have seen Indigenous students participate in one-day camps at Queen's; this year's iteration came about from participant feedback expressing a desire for a more in-depth look at university life.
Students stayed in residence throughout the four days and participated in lectures at Smith, daily lunch at Leonard Hall, a simulated business pitch competition, and a visit to Four Directions Indigenous Student Centre on campus. Several Queen's faculties also came together to host a faculty fair that provided students with information on the range of programs and support services available at Queen's.
Maddy Spriet, an equity, diversity, inclusion and Indigenization intern working at the CSI and assisting with the camp, says participants enjoyed the opportunity to experience campus life. "Just walking to and from class, eating in the dining hall and seeing other students around made them feel like a true part of the university community."
Spriet adds that others found the camp inspiring. "Learning about all the different opportunities that exist at Queen's really empowered them to dream big about their futures."
Next year's camp is already on the books and organizers are keen to build on this year's success by adding new content to the curriculum and more community partners.
"This type of early outreach uplifts future Indigenous leaders by allowing them to see themselves at Queen's and that their dreams can be realized through higher education," says Deer.