Three Team Canada athletes to join Smith
Posted on September 21, 2021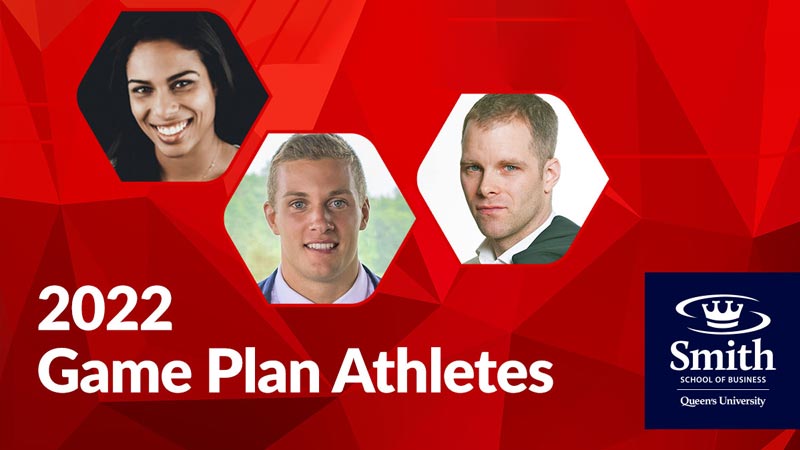 Kingston, Ont. – This January, the Smith community will welcome a new cohort of Team Canada athletes to the business school's Full-time MBA and Accelerated MBA programs. 
Smith School of Business and the Canadian Olympic Committee (COC) announced that three athletes have been awarded Game Plan Scholarships to pursue their Master of Business Administration degrees. They are: 
Magali Harvey, Rugby (Full-time MBA)
Andrew Haley, Para swimming (Accelerated MBA)
Jon West, Rugby (Accelerated MBA)
These successful applicants will join a network of over 150 elite Canadian athletes who have been awarded academic scholarships since Smith became the exclusive business education partner of the COC in 2016. All current and retired Sport Canada carded athletes who are also registered Game Plan athletes are eligible to apply for the scholarship.
"High-level athletes possess many of the characteristics that we look for in applicants — leadership, determination, collaboration, coachability and resilience. They thrive in Smith's team-based approach to learning and high-performance coaching culture and help others do the same," said Elspeth Murray, associate dean of MBA and Masters Programs, Smith School of Business. "Together with Game Plan, Smith is proud to be supporting Canada's national team athletes in developing the skills to excel in the world of business."
Smith's scholarship program is one component of Game Plan, Canada's total athlete wellness program, which takes a holistic approach in supporting athletes during their high-performance careers and beyond. Smith's scholarship program offers a broad range of educational opportunities for athletes, including four MBA programs, a suite of specialized master's programs, as well as a Certificate in Business, Graduate Diploma in Business and Queen's Executive Education. Program delivery has been adjusted where necessary to safely deliver programs while COVID-19 protocols remain in place.
About the Canadian Olympic Committee
The Canadian Olympic Committee leads the achievement of Team Canada's podium success and advances Olympic values across Canada. Independent and predominantly privately funded, the COC delivers the resources that Canada's elite athletes need to perform at their best and give their everything every day. By sharing our athletes' stories, we inspire all Canadians through the power of sport: 24 hours a day, 7 days a week, 365 days a year.