Sixth annual UPstart Venture Challenge gives four new businesses a boost
Posted on

December 14, 2021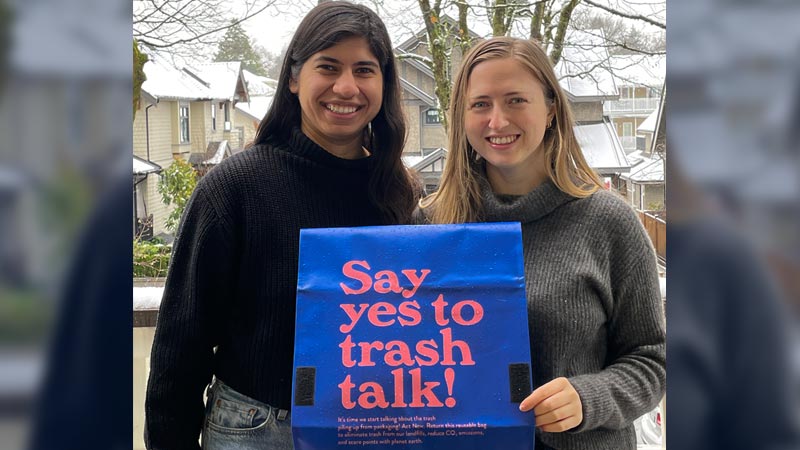 Kingston, Ont. – Four Smith-led ventures have won funding to accelerate their growth during the sixth annual UPstart Venture Challenge hosted Dec. 2 by the Centre for Business Venturing (CBV) and Queen's Venture Network.
Nine teams battled it out in the virtual arena, delivering their business plans to a panel of judges for the chance at up to $60,000 in funding to grow their companies.
This year's judges, who were free to divide the prize money among as many teams as they wished, were Smith alumni Bob Peel, EMBA'99, president and founder of Happy Boss; Anjan Aralihalli, MBA'97, venture partner at CTI Life Sciences Fund; Kristi Herold, BCom'93, CEO and founder of JAM + Sport and Social Group; and Karen Flavelle, BCom'79, CEO of Purdys Chocolatier.
Kelly Thomson and Mehwish Panjwani, both BCom'16, of QUIL Packaging won the largest portion of this year's prize: $40,000. Based in Vancouver, QUIL provides brands with reusable and returnable packaging for shipping online orders.
"The Centre for Business Venturing investment will help us scale from our first five brands to our next 20 and help us get closer to our mission of bringing reusable packaging to every doorstep in Canada!" Thomson says.
QUIL reduces 96 per cent of packaging waste and 80 per cent of CO2 from packaging by allowing customers to drop off their empty packaging in any mailbox or in-person return location for collection, cleaning and prep for reuse. Each bag can be reused up to 20 times.
Other winners of this year's pitch competition are:
Harjaap Singh, BCom'18, and Suhavi Makkar, AMBA'20, earned $7,500 for their Toronto-based company

Zonado

. Canada's first open buyer and seller network for commercial real estate, Zonado makes it easy for buyers and tenants to get a complete picture of active market inventory in one place. Zonado also uses algorithms to match users with listings.
Tom McDonell, BCom'18, co-founder and COO at LooView. He secured $7,500 for the all-in-one business management solution for portable toilet rental businesses. Calgary-based LooView combines IoT sensors with a management portal that helps clients provide better service and reduce costs.
Al-Karim Khimji, AMBA'07, took home the $5,000 People's Choice Award for his co-founded venture,

Propra

. Based in Calgary, Propra is a new entrant in the Canadian residential property management industry and leverages machine learning and automation to reduce workload for property managers and improve the resident experience.
Finalists and attendees also got to hear from past UPstart winner Connie Lo, BCom'15, GDA'15, co-founder of the all-natural and affordable skin-care company Three Ships, and guest speakers Cyrus Symoom, BCom'15, co-CEO of Clariti and managing partner at Explora Partners, and Jenny Lemieux, MMAI'20, co-founder of Vivid Machines, a company using sensors and machine learning to get more fruit to fridges and dollars to farms. 
"The UPstart competition was high quality this year. We had nine great ventures which were all equally deserving of funding," says JP Shearer, associate director of the CBV. "I am continually blown away by the quality of the entrepreneurs in the Smith CBV ecosystem. I am proud to work with and coach them every day."
A big thank you to the alumni pre-screen judges: Andrea Sotak, MBA'03, Cynthia Phillips, BCom'84, Deanna Werklund, EMBA'14, Arnon Vered, AMBA'09, Chris Chin-A-Loy, BCom'00, Don Kennedy, BCom'79, and Ali Sifton, BCom'09, who provided their time and energy reviewing the more than 50 applications to select the finalists.