Financial Times publishes 2021 EMBA ranking
Posted on October 18, 2021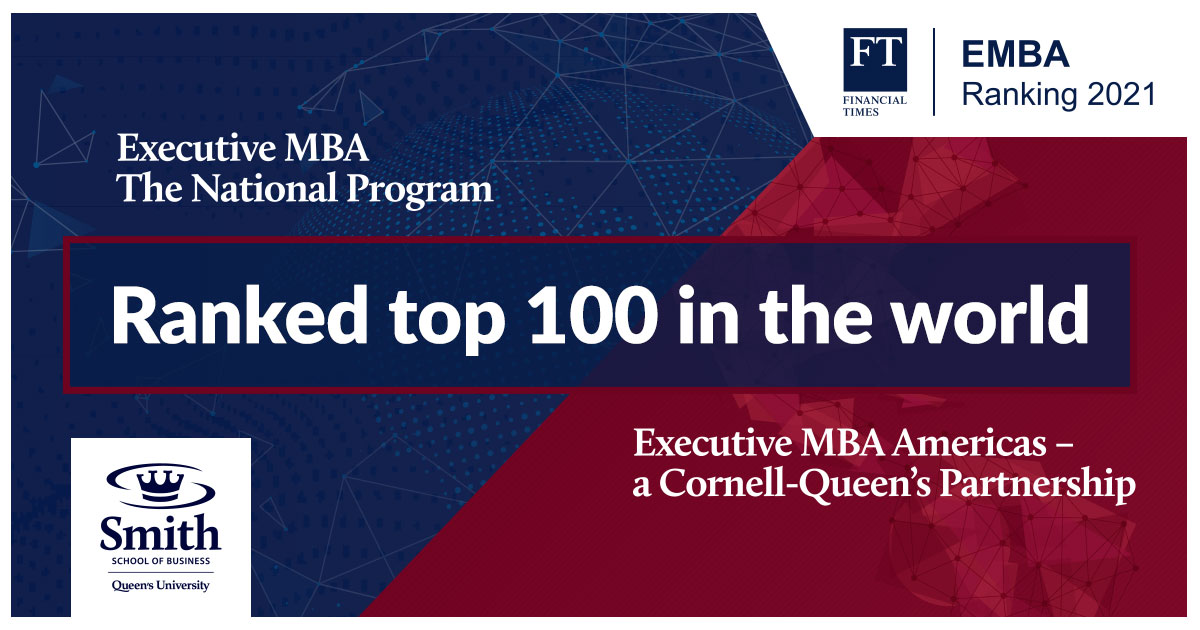 Kingston, Ont. – Smith School of Business' two EMBA programs are ranked top 100 in the world by the Financial Times.
Smith's National Executive MBA and Executive MBA Americas secured spots in the just-released FT 2021 ranking of global Executive MBA programs.
"We are honoured to be recognized by the FT as a leader in executive business education," said Elspeth Murray, associate dean, MBA and masters programs. "Both programs support mid-career professionals in achieving their next career goals, and our strength in this area is evidenced in our rankings."
The Smith National Executive MBA moved up eight spots to No. 73 overall. The program's career progress ranking rose an impressive 30 spots to No. 34, up from No. 64 in 2020. This metric is based on changes to the level of seniority and size of the company where alumni currently work. The Executive MBA Americas program, a partnership between Cornell University's Johnson Graduate School of Management and Smith School of Business at Queen's University, was ranked at No. 57 overall. The program ranked in the top 20 for career progress, coming in at No. 19.
"A key component of the Smith Executive MBA experience is our approach to helping students become transformative leaders," said Professor Murray. "As part of our exceptional support, students receive individual, executive coaching to build personal capacity skills and develop their areas of strength."
The Financial Times ranking is based, in part, on a survey of alumni three years after graduation to get a clear snapshot of salary increase and career progress post-EMBA. The FT also collects data from each school on diversity of students, faculty and board members, as well as international experience, environmental, social and governance (ESG) and research.
Four Canadian programs made the 2021 ranking. View the full FT 2021 Executive MBA ranking here.