Smith Commerce professors win 2021 Ideas Worth Teaching Award
Posted on October 4, 2021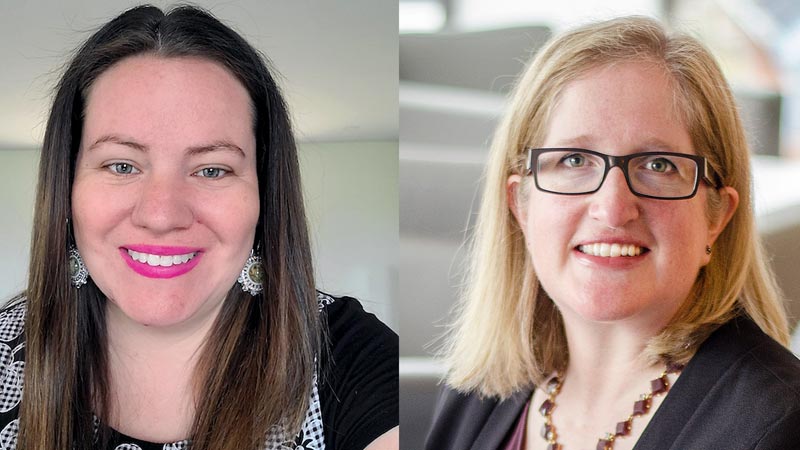 Kingston, Ont. – Professors Lindsay (Kawennenhá:wi) Brant and Kate Rowbotham have been recognized by the Aspen Institute Business & Society Program's Ideas Worth Teaching Awards.
Their course, Relationships and Reconciliation in Business and Beyond, is one of eight winning finalists that were chosen from a pool of nominations representing 90 schools from 19 countries, as part of the program that is designed to draw attention to new ideas about the role of business in creating a sustainable, inclusive society.
The Relationships and Reconciliation in Business and Beyond course is taught on Smith's Commerce program, and an abridged version with Professor Ann Deer was delivered to a cohort of MBA and professional graduate students as part of this year's Summer Enrichment Program. It provides students with a different way of thinking about business.
"Through the creation and teaching of this course, we were able to shape students' understanding of business and business education as relational," said Professor Brant. "It is my hope that by sharing our story of this course and why we created it, we can inspire others to do the same in their institutions. It's such a critical time in our society, and our future leaders need to be aware of the historic and contemporary challenges and triumphs of Indigenous peoples."
Students who took this course were able to interrogate the neo-liberal concepts that were positioned as foundational in their business education and recognize the power of economies of care that existed far before settler colonialism that still thrive today. While the content of the course addresses the destruction that capitalism inflicted on Indigenous peoples, the professors' emphasis on Indigenous excellence and resurgence encourages students to see how any business could adopt principles that incorporate Indigenous ways of knowing and doing in an appreciative and non-appropriative manner.
"We also carried course content into our teaching practice," Professor Rowbotham explained. "Our pedagogy of peace, which draws on the values of the Haudenosaunee Great Law of Peace, encouraged us to put learners at the centre of all that we do. By centring students, we decentred ourselves and willingly stepped back to allow student voices to shape the learning and teaching that occurred."
"Receiving this award is such an honour because it means that broader attention can be given to the necessity and importance of having courses in business schools that centre and highlight Indigenous ways of knowing and being," said Professor Brant. She hopes that this understanding will help students engage meaningfully in the processes of relationship building and allyship. "For Indigenous students, it means feeling seen and heard through having their ways of knowing reflected in both the curriculum and delivery style of the course." 
About the Professors: 
Prof. Lindsay (Kawennenhá:wi) Brant is an educational developer in Indigenous Pedagogies and Ways of Knowing at the Queen's Centre for Teaching and Learning, and an adjunct lecturer at Smith School of Business. She is from Tyendinaga Mohawk Territory and comes to educational development after years working in various higher education settings in instructional design, curriculum development, student support and faculty roles. The focus of her work at the Centre for Teaching and Learning is decolonizing and Indigenizing education, with the goal of liberating learning spaces to create a more inclusive learning environment for all.
Dr. Kate Rowbotham is an assistant professor and Distinguished Faculty Fellow of Organizational Behaviour at Smith School of Business. Her research focuses on experiences of inclusion and exclusion across different organizational and educational settings, and these themes are present in her teaching as well. Her commitment to equity and justice plays a part in her involvement across the Queen's community and beyond. Over her career she has been the recipient of numerous teaching awards. 
To learn more about their course visit: https://www.ideasworthteachingawards.com/2021-course-winners/relationships-and-reconciliation
About the Aspen Institute:
The Aspen Institute is a global non-profit organization committed to realizing a free, just and equitable society. Founded in 1949, the Institute drives change through dialogue, leadership and action to help solve the most important challenges facing the United States and the world. The Aspen Institute Business and Society Program, founded in 1998, works with business executives and scholars to align business decisions and investments with the long-term health of society—and the planet. Through carefully designed networks, working groups and focused dialogue, the program identifies and inspires thought leaders and "intrapreneurs" to challenge conventional ideas about capitalism and markets, to test new measures of business success and to connect classroom theory and business practice. For more information, visit www.aspenbsp.org.