Ten Team Canada athletes to join Smith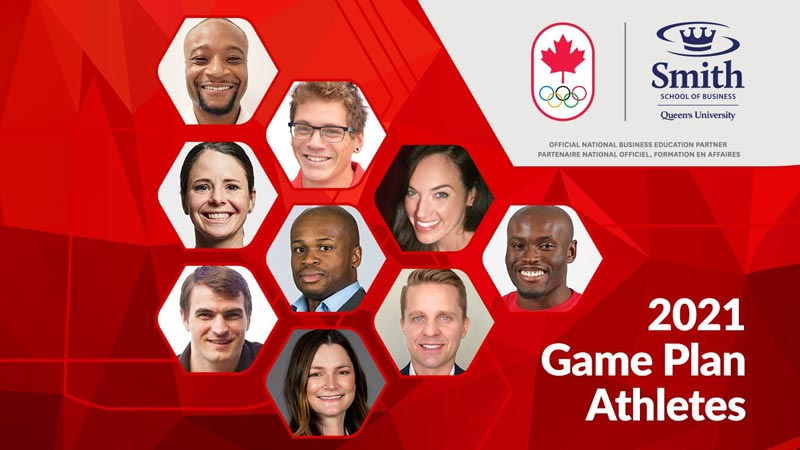 Toronto/Kingston, Ont. – Today, Smith School of Business and the Canadian Olympic Committee (COC) announced that ten Team Canada athletes will be welcomed into the Smith family. After years of competitive sport, these athletes have been awarded Game Plan Scholarships and will be returning to school to build their business skills.
The athletes joining Smith programs in the coming months include: 
Lanette Prediger, Skeleton (Executive MBA Americas)
Oluseyi Smith, Athletics/Bobsleigh (Executive MBA Americas)
Doug Csima, Rowing (Executive MBA)
Diana Matheson, Soccer (Executive MBA)
Courtney Brown, Artistic Swimming (Master of Management Innovation and Entrepreneurship)
Andrew Gray, Soccer (Master of Management Innovation and Entrepreneurship) 
Segun Makinde, Athletics (Master of Management Innovation and Entrepreneurship)
Aaron Rublee, Canoe/Kayak (Master of Management Innovation and Entrepreneurship)
Nicolas Youngblud, Water Polo (Master of Management Innovation and Entrepreneurship)
Benjamin Preisner, Athletics/Marathon (Master of Management Artificial Intelligence)
Smith's scholarship program is one component of the COC's Game Plan, Canada's total athlete wellness program, helping athletes plan for success beyond sport. This new cohort of successful applicants will join the network of over 130 elite Canadian athletes who have been awarded academic scholarships since Smith became the exclusive business education partner of the COC.   
"It has been very exciting to see the COC and Smith partnership continue to grow since its inception in 2016," said Josh Campbell, director of strategic planning and new initiatives, Smith School of Business. "As a school community, we are committed to supporting our top Canadian athletes plan for their career and life after competitive sport. The most recent Game Plan scholarship recipients bring a wealth of leadership experience, having excelled at the highest level in their field – making them a fantastic fit with Smith's high-performance coaching and team model."
"I know that athletes, with all they've learned in sport, make incredible leaders and have the ability to make Canada stronger," said Cara Button, Game Plan national manager. "This partnership with Smith School of Business enables us, through the Game Plan program, to help them on their journey by providing them with a world class business education."  
Smith's scholarship program includes a broad range of educational opportunities for athletes, including four MBA programs, a suite of specialized master's programs covering topics such as innovation and entrepreneurship, international business, finance, analytics and artificial intelligence, as well as a Certificate in Business and Graduate Diploma in Business. Program delivery has been adjusted where necessary to safely deliver programs while COVID-19 protocols remain in place. 
"I've seen how this program has changed the lives of some of my teammates," said Oluseyi Smith, a two-time Olympian, professional engineer and scholarship recipient. "And I'm thrilled to be a part of the class of 2023. Smith recognizes just how much an athlete can bring to a business setting. Athletes are coachable, not afraid to try things and fail, and most of all are team players. Smith's team-based learning environment provides athletes with the chance to layer the tools of business on top of the skills they learned through sport." 
About Smith
Smith School of Business at Queen's University is renowned for its excellence, innovation and leadership in business education. From establishing the first undergraduate business degree over a century ago to creating groundbreaking programs and courses in emerging areas, Smith is at the forefront of preparing students for the business marketplace. In addition to its rich tradition of academic and teaching excellence, Smith is known for delivering an outstanding learning and development experience. Personal attention, individual and team coaching, opportunities for specialization, and a deep commitment to student success characterize the Smith experience.
About the Canadian Olympic Committee
The Canadian Olympic Committee leads the achievement of Team Canada's podium success and advances Olympic values across Canada. Independent and predominantly privately funded, the COC delivers the resources that Canada's elite athletes need to perform at their best and give their everything every day. By sharing our athletes' stories, we inspire all Canadians through the power of sport: 24 hours a day, 7 days a week, 365 days a year.
Media Contact
Julia Lefebvre
Communications Manager, Smith School of Business
julia.lefebvre@queensu.ca