Financial Times publishes EMBA ranking
Posted on October 27, 2020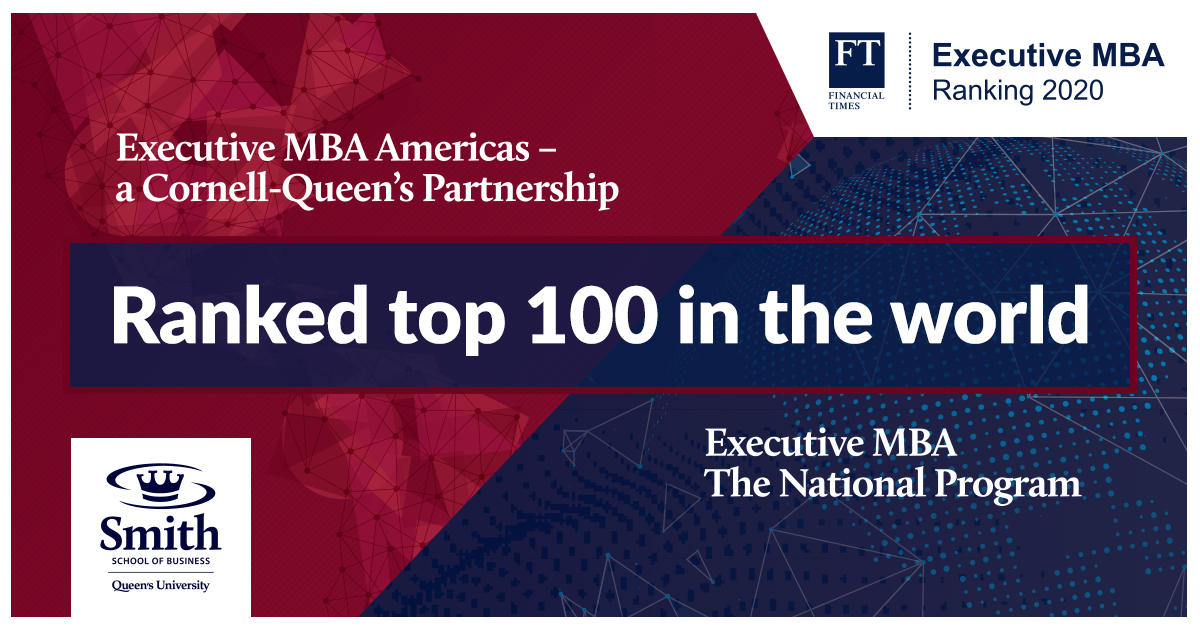 Smith programs among top 100
Kingston, Ont. – Two Smith EMBA programs have secured spots in the just-released Financial Times top 100 ranking of global Executive MBA programs.
The Executive MBA Americas, a partnership between Cornell University's Johnson Graduate School of Management and Smith School of Business at Queen's University, was ranked in the top 50, at #46. The program ranked #11 for career progress, which is calculated by changes to the level of seniority and the size of company that alumni are working at now. Smith's National Executive MBA held steady at #81. It continued its strong ranking for student and faculty diversity, and student program aims achieved. 
This year the FT introduced a new question, asking alumni to rate overall satisfaction with their EMBA program. The EMBA Americas and Smith's National EMBA programs were both ranked among the top three in Canada for overall alumni satisfaction.
"We are thrilled that Smith's Executive MBA offerings continue to support mid-career professionals in achieving their career goals," said Elspeth Murray, Associate Dean of MBA and Masters Programs at Smith School of Business, Queen's University. "Drawing participants from every region in Canada, across the U.S., Mexico and South America creates a broader perspective in the classroom and adds greater richness to the discussions. It also creates a powerful alumni network that spans the globe."
The Financial Times ranking is based, in part, on a survey of alumni three years after graduation in order to get a clear snapshot of salary increase and career progress post-EMBA. The FT also collects data from schools on diversity of students, faculty, and board members, as well as international experience, corporate social responsibility and research. The research rank is based on the number of articles by full-time faculty in 50 internationally recognized academic and practitioner journals. Smith faculty were ranked in the top 50 for research. 
Five Canadian schools were included on this year's ranking. View the full FT 2020 Executive MBA ranking here.