A "smart" idea wins Paul and Tom Kinnear Business Plan Competition
Posted on

April 28, 2020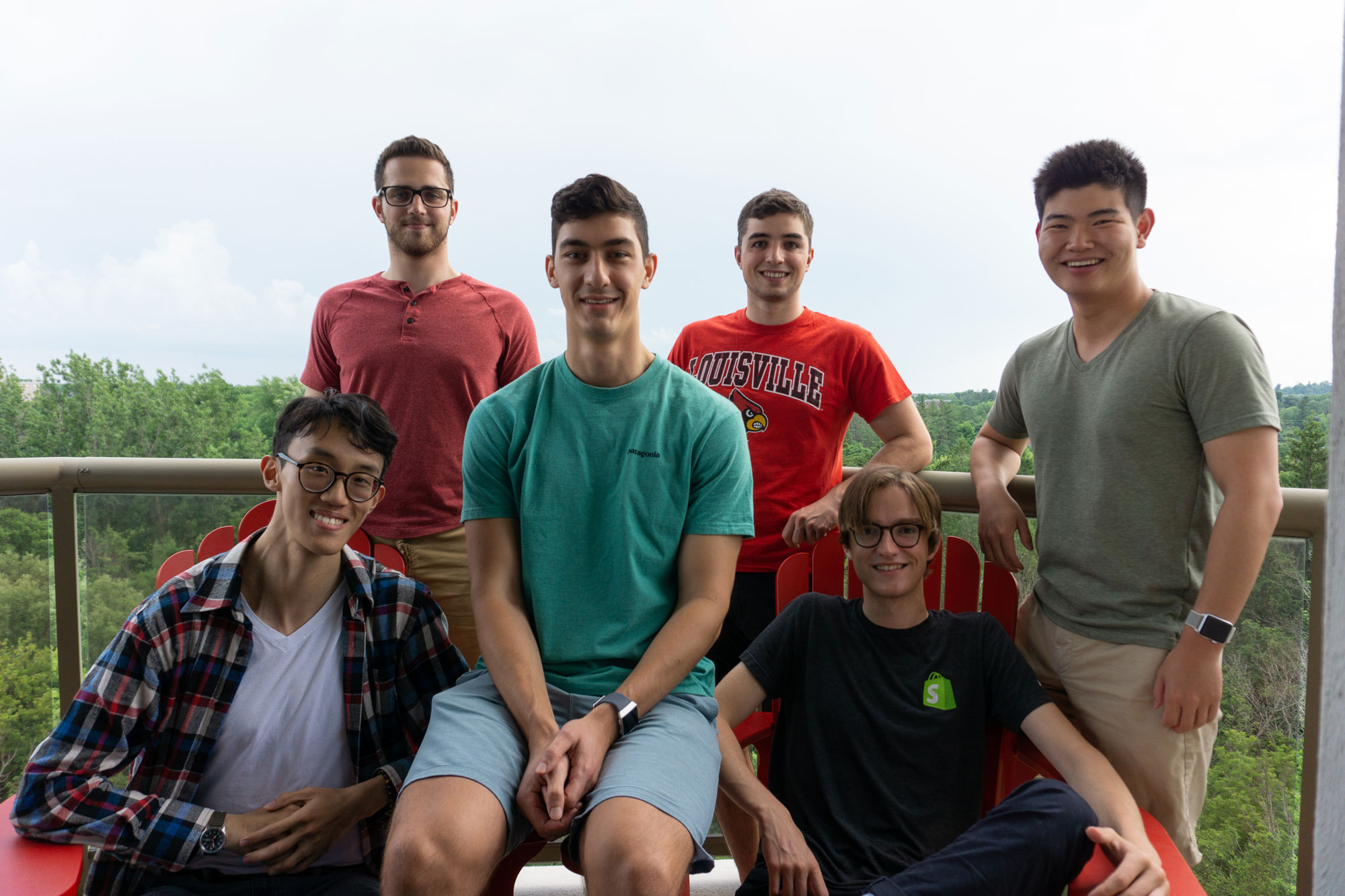 Kingston, Ont. – Traktab, a smart pillbox to remotely track medication usage won top prize at the annual Paul & Tom Kinnear Business Plan Competition from the Centre for Business Venturing (CBV) at Smith School of Business.
The winning team comprises two Smith students, Vinson Lee and Matthew Mastromarco, both Comm'20, plus University of Waterloo software engineering students Aaron Cotter, David Tsenter, Spencer Dobrik and Ryan Wang. They were awarded $5,000 to further develop their product.
Traktab is a pillbox–the kind commonly used by seniors–with a high-tech twist. Sensors detect when pills are removed. That allows family members and loved ones to track whether seniors are taking their medication. The pillbox logs when a pill is taken in real time. The information can be monitored remotely through an app from anywhere.
Co-founder Vinson Lee knows first-hand how serious proper medication tracking is, having spent almost a decade following a strict medication regimen while in a wheelchair working through a physical rehabilitation process.  
"I got a really intimate view of the challenges chronic illness patients face in taking their pills every day. Life gets busy, and especially for those who are vulnerable, it's clear that simple phone alarms aren't cutting it," he said.
Market research conducted by Lee and his colleagues found that 80 per cent of seniors take pills daily, but over half admit to not taking them as directed. 
Fellow Traktab co-founder Matthew Mastromarco says the team plans to use the grant money to fund an initial production batch "so that we can get our product into the hands of users to test and provide us with feedback."
The Paul and Tom Kinnear Business Plan Competition supports Smith Commerce student entrepreneurs. It was established in 2008 by brothers Tom Kinnear, BCom'66, LLD'02, and Paul Kinnear, BCom'63. Each year, undergraduate student entrepreneurs apply to the competition, with four teams ultimately invited to present their plans in front of a panel of judges. Teams must have at least one Smith Commerce student as a member.
In light of COVID-19 social distancing guidelines, this year's competition moved online. Finalists submitted video pitches. A live video-conference Q&A afterward allowed the competition's judges to ask each team questions about their venture, and provide feedback and advice.
In evaluating the plans, judges were asked to select the team they believed was most committed to the future of its venture and who they would be most excited to work with as advisors.
This year's judges included CBV associate director JP Shearer, Catherine Bell, EMBA'02, Jeff Wiener, BCom'90, and Jennifer Wright, BCom'93. 
This year's other finalists included:
Bloom Botanica, a producer of all-natural and sustainable alcoholic beverages, specifically fruit wine-based pre-mixed drinks: James Edwardson, Comm'20
Mistral Spirit, an online lifestyle influencer brand that provides inspiration and strategies for those working towards a productive, balanced and healthy lifestyle: Iona Pihu, Comm'22
The Positivity Project, an e-commerce platform that allows people to personalize and send greeting cards to benefit those facing homelessness and struggling with mental health: Aaliyan Khan, Comm'22, Claire Mikuska, Comm'22, Emily Tiessen, Comm'22, Grace McColl, Comm'22, Randy Shao, Comp'22, Zion Oginni, Comp'22 and Emilie Leneveu (Memorial University)