Smith School of Business Awarded Prestigious Operations Research and Analytics Teaching Award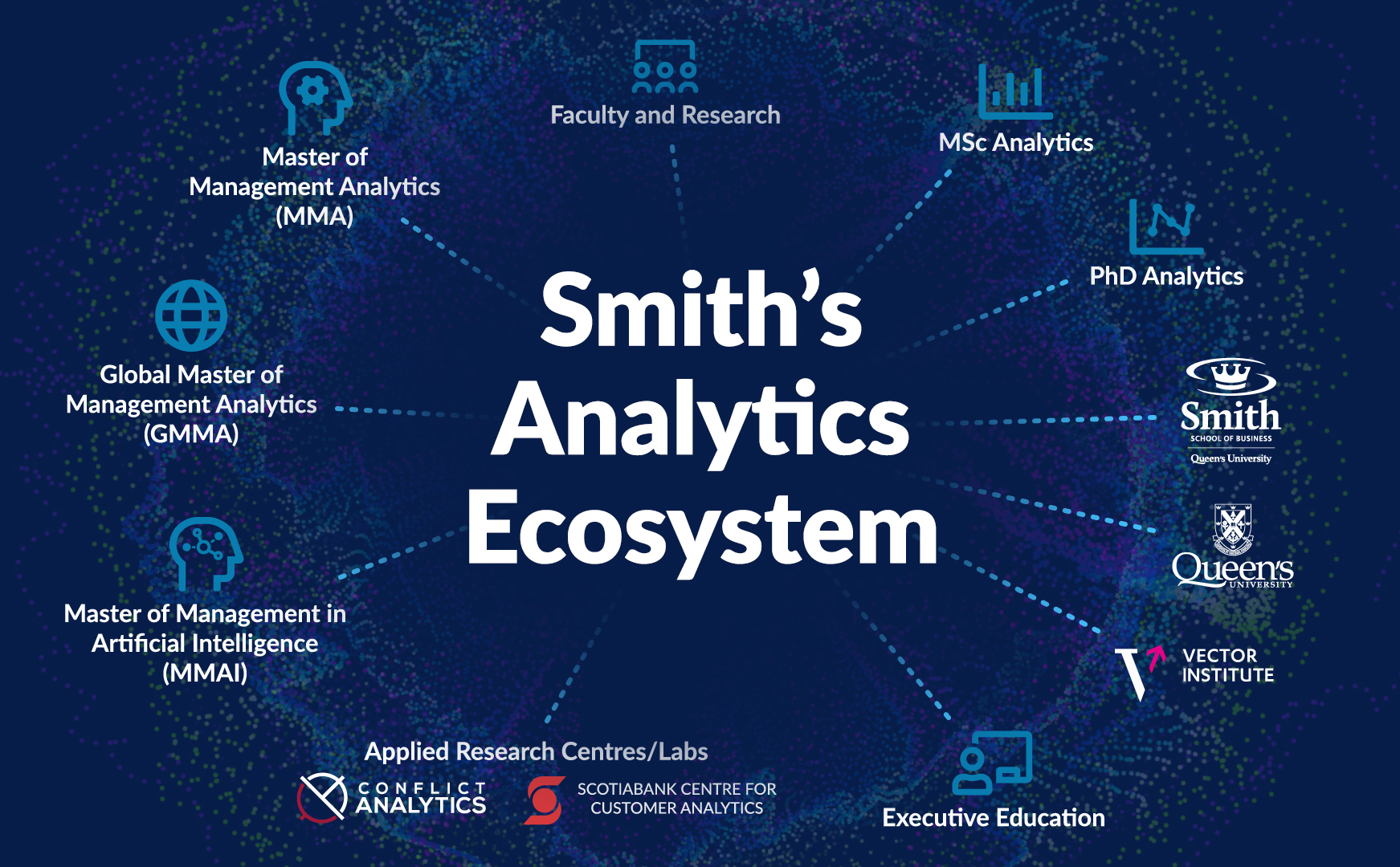 Kingston, Ont. – INFORMS, the leading international association for professionals in operations research and analytics, has awarded Smith School of Business at Queen's University in Kingston, Ontario, Canada, the 2020 UPS George D. Smith Prize. The award recognizes excellence in preparing students to become practitioners of operations research and analytics.
Smith submitted its world-class analytics ecosystem to the competition, which it has been building over the last decade. In 2013 the school launched its first degree program in management analytics, designed in response to a growing demand for managers who could interpret valuable business insights from data. Since then Smith has enriched its management analytics area with corporate and industry partnerships, including the Scotiabank Centre for Customer Analytics, established at Smith, and the Vector Institute. 
"We are honoured to receive the George D. Smith Prize from INFORMS. It's a tribute to our global leadership in teaching the management of data analytics and AI, and a strong recognition of our faculty research and exceptional industry partnerships," said Brenda Brouwer, dean, Smith School of Business at Queen's University.
Named in honour of the late UPS Chief Executive Officer – a champion of operations researchers at a leading Fortune 500 corporation – the UPS George D. Smith Prize was created in the spirit of strengthening ties between industry and the schools of higher education that graduate young practitioners of operations research. The prize is awarded to an academic unit that includes operations research, management sciences and analytics in its programs.
"On behalf of the INFORMS community, we congratulate Smith School of Business for their unparalleled efforts to provide top notch programs and teaching in operations research and analytics. Their work to strengthen ties between academia and industry makes them a standout recipient for this award," said Melissa Moore, INFORMS' executive director.
Following the success of its Master of Management Analytics (MMA) program, Smith continued to graduate technically skilled managers with two more programs designed for working professionals: North America's first management degree in artificial intelligence (MMAI) and a new analytics program delivered globally (GMMA). 
"What is unique at Smith is that analytics is included in not just one or two dedicated programs, but rather it is integrated throughout an entire ecosystem of connected, mutually reinforcing programs," said Anton Ovchinnikov, Distinguished Professor of Management Analytics and a Scotiabank Scholar for Customer Analytics, who led the submission for Smith. 
A key component of the ecosystem's success is interdisciplinary collaboration. Together with with professor Samuel Dahan's team at Queen's Faculty of Law, Smith recently launched the Conflict Analytics Lab, which aims to advance global knowledge of how artificial intelligence intersects with the legal industry, specifically disputes and resolution. 
The Smith team has also created a suite of executive education programs, including a Trusted Data and AI course developed in conjunction with IEEE, the world's largest technical professional organization, to ensure the ethical and responsible use of advanced analytics technologies.
"It would not have been possible to grow Smith's analytics and AI ecosystem without the incredible support and early buy-in from the faculty at Smith, the school's advisory board, former dean David Saunders and, of course, our amazing alumni who help us move from strength to strength by mentoring – and hiring – our students," said Yuri Levin, executive director, analytics and AI, at Smith School of Business, Queen's University.
Past recipients of the award include the University of Cincinnati; University of Tennessee, Knoxville; Air Force Academy; H. John Heinz III College of Information Systems and Public Policy at Carnegie Mellon University; Sauder School of Business at University of British Columbia – Centre for Operations Excellence; MIT Leaders for Global Operations (LGO); Naval Postgraduate School; and Tauber Institute for Global Operations at the University of Michigan.
The finalists for the 2020 Smith Prize were: Darla Moore School of Business, University of South Carolina and the Department of Information and Decision Sciences at the Carlson School of Management, University of Minnesota.
About Smith
Smith School of Business at Queen's University is renowned for its excellence, innovation and leadership in business education. From establishing the first undergraduate business degree a century ago to creating groundbreaking programs and courses in emerging areas including artificial intelligence, fintech, analytics, cultural diversity, entrepreneurship, team dynamics, social impact and more, Smith is at the forefront of preparing students for the business marketplace. In addition to its rich tradition of academic and teaching excellence, Smith is known for delivering an outstanding learning and development experience. Personal attention, individual and team coaching, opportunities for specialization, and a deep commitment to student success characterize the Smith experience.
About INFORMS
With 12,500 members from nearly 90 countries, INFORMS is the largest international association of operations research (O.R.) and analytics professionals and students. INFORMS provides unique networking and learning opportunities for individual professionals, and organizations of all types and sizes, to better understand and use O.R. and analytics tools and methods to transform strategic visions and achieve better outcomes. 
Visit www.informs.org or @informs.
-30-
Contact:
Kate Clarke
Smith School of Business, Queen's University
613.331.6488 / clarke.kate@queensu.ca
Ashley Smith
INFORMS
443.757.3578 / asmith@informs.org