Dare to Dream 2020 winners are announced
Posted on

June 15, 2020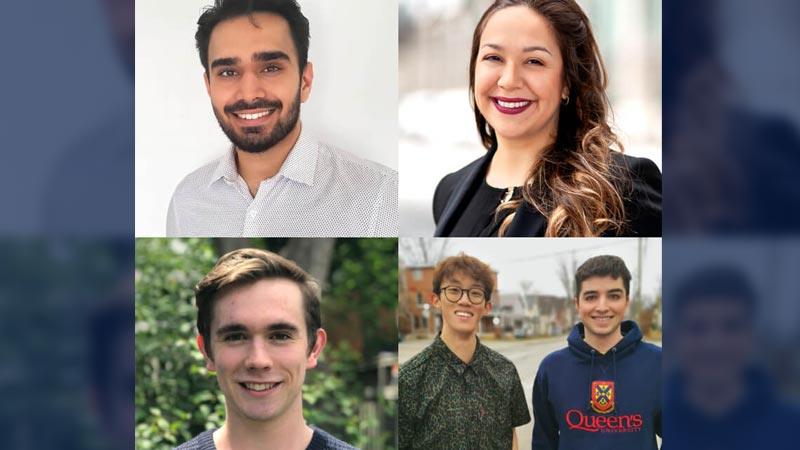 Kingston, Ont. – Four new ventures led by Smith School of Business alumni have been announced as this year's recipients of Dare to Dream funding. 
Dare to Dream helps to grow companies founded by Smith students and alumni. Winners receive up to $15,000 in funding, coaching, mentoring and access to space, thanks to financial support from alumni and corporate donors.
Dare to Dream is run by the Centre for Business Venturing (CBV) at Smith. The centre provides education, advice, access to financing and connections to Smith's vast alumni network to increase the odds of startup success.
"Entrepreneurial ventures require support at all junctures, but none is more critical than when they are an early-stage startup," says JP Shearer, CBV's associate director. "The Centre for Business Venturing, through Dare to Dream, offers the financial and foundational support necessary to launch and grow a business that's fit enough to compete." 
Two of the awarded startups were founded by recent Smith Commerce graduates. The others were launched by Master of Management Innovation & Entrepreneurship (MMIE) program alumni.
Here's a complete list of the recipients, their ventures, and the Dare to Dream donors supporting entrepreneurship at Smith:
Sundar Manku, MMIE'19
Company: MedaKi
Dare to Dream donor: Valerie Mann, BCom'86
MedaKi is a health-care platform that virtually links pharmacies and customers. People can book online appointments, for example, or talk to a pharmacist or health-care practitioner via video chat. Prescriptions and over-the-counter items can also be ordered for home delivery. Sundar Manku started MedaKi in Kingston two years ago after he spent time working in a drugstore. He says MedaKi can especially help seniors, mothers with young children, people with disabilities and others who have a hard time visiting a pharmacy in person. MedaKi also seems like a timely idea. With the ongoing COVID-19 pandemic, MedaKi can "help decrease foot traffic in pharmacies and reduce the risk of exposing the disease to frontline workers," Manku says.
Vinson Lee, BCom'20, and Matthew Mastromarco, BCom'20
Company: TrakTab
Dare to Dream donors: Dany Battat, BCom'78, and Gia Steffensen, BCom'78
Eighty per cent of seniors take pills regularly. Yet over half say they don't follow their prescribed pill-taking routine. TrakTab is a high-tech solution to the problem: a pillbox with light and sound reminders, plus sensors to detect when pills are removed. The latter information is logged in real time and can be viewed on an app. Thus, loved ones can monitor their elderly relatives' prescription-taking from afar. Commerce dormmates Vinson Lee and Matthew Mastromarco co-founded TrakTab in 2018 alongside four University of Waterloo software engineering students. Lee spent nearly a decade in a wheelchair on a strict medication regimen. That, he says, gave him "a really intimate view on the challenges chronic medication patients face in taking pills every day. Life gets busy, and especially for those who are vulnerable, it's clear that phone alarms simply aren't cutting it."
Sophia Stone, MMIE'20
Company: Indie Tech
Dare to Dream donor: CIBC
Hiring a consultant can be a costly struggle for companies. Sophia Stone has spent nearly a decade working in consulting. During that time she has identified a number of problems that large companies face trying to find the right expertise. As a solution, she created Indie Tech, a SaaS (software as a service) consulting management system that uses artificial intelligence. Indie Tech is a marketplace for financial institutions to hire the right person or team. It automates the entire process—from finding consultants to onboarding and managing them. "Hiring managers and procurement departments go through multiple vendors and staffing firms to blindly find the best expertise," she explains. "They need a platform that creates transparency about who is available and actually qualified in the marketplace, the work that is being done, and the ability to manage and use AI to mitigate ongoing risk associated with using external suppliers." Indie Tech was founded in 2018 in Toronto and plans to launch later this year. 
Sam Shore, BCom'20
Company: Lunar Loyalty
Dare to Dream donor: RLS Foundation
Sam Shore founded Lunar Loyalty in January 2018 after helping in his father's small business in Kingston. "I found that there really weren't any customer loyalty solutions that provided both small businesses and users with a great experience," he says. With Lunar Loyalty, shoppers can earn points at any participating store in their community. Most traditional loyalty programs only offer rewards at one specific store, Shore says. Plus, many third-party loyalty programs for small businesses are pricey, do not capture enough valuable customer data, and add considerable time at checkout. Lunar Loyalty tries to make the process easier for customers and merchants. For example, it links directly to shoppers' debit and credit cards so they can instantly collect points, then redeem them via an app for e-gift cards at participating stores.