Smith receives commemorative medal from Costa Rica
Posted on December 8, 2020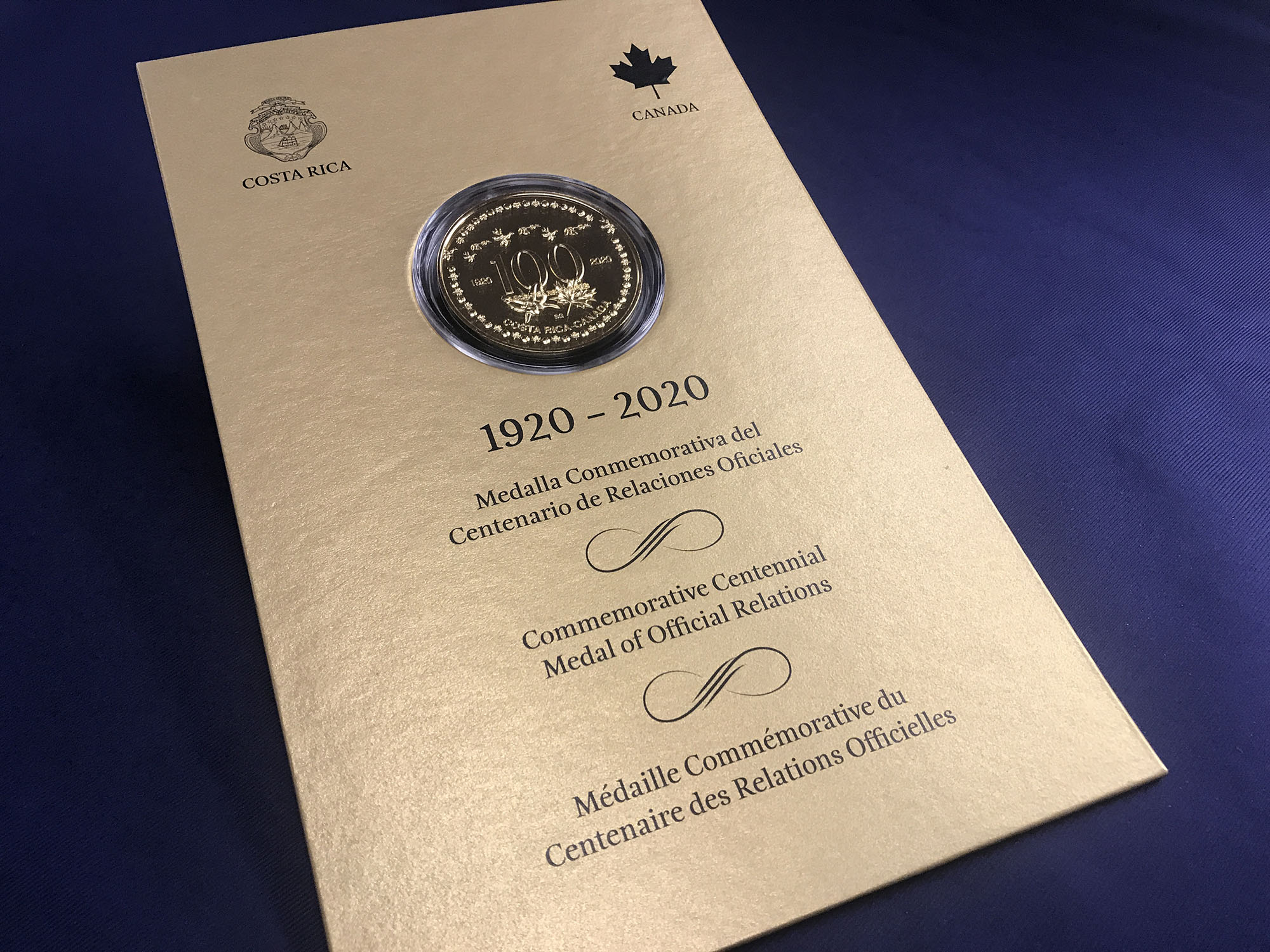 Kingston, Ont. – Smith School of Business was recently presented with a medal marking the 100th anniversary of relations between Costa Rica and Canada.
Mauricio Ortiz Ortiz, Costa Rica's ambassador to Canada, presented the medal to Matt Reesor, director of Smith's full-time MBA program, and Angela James, director of the Centre for International Management, on Nov. 19 in Goodes Hall.
The medal marks the centennial of official Costa Rica–Canada relations. It features graphic elements representing both countries. For example, one side has both the Maple Leaf emblem and the national flower of Costa Rica, the Guaria Morada.
Ambassador Ortiz is presenting the medal to 100 people and institutions in Canada (including Smith) that have helped strengthen ties between the two countries. The medal is made of material from both Costa Rica and Canada.
"It's a great honour and privilege for Smith to be recognized this way, and we look forward to continuing to build our relationship with Costa Rica," Reesor said.
Smith's ties with the Central American nation have grown since 2014 when the Costa Rica MBA Scholarship was created. It's awarded each year to a Costa Rican citizen entering the full-time MBA program.
To date, six Costa Ricans have received the $100,000 scholarship, which was established by an anonymous donor. It's awarded on the basis of academic achievement and community leadership, and presented to a student who would not be able to attend the MBA program without the scholarship's funding. Other students from Costa Rica have also enrolled in Smith programs, including the full-time MBA.
During his visit to Goodes Hall, Ambassador Ortiz met with scholarship recipient Alberto Calvo, MBA'21. He also discussed with school officials further opportunities for Smith and his country to work together.