Smith students win at pitch competition
Posted on

August 30, 2019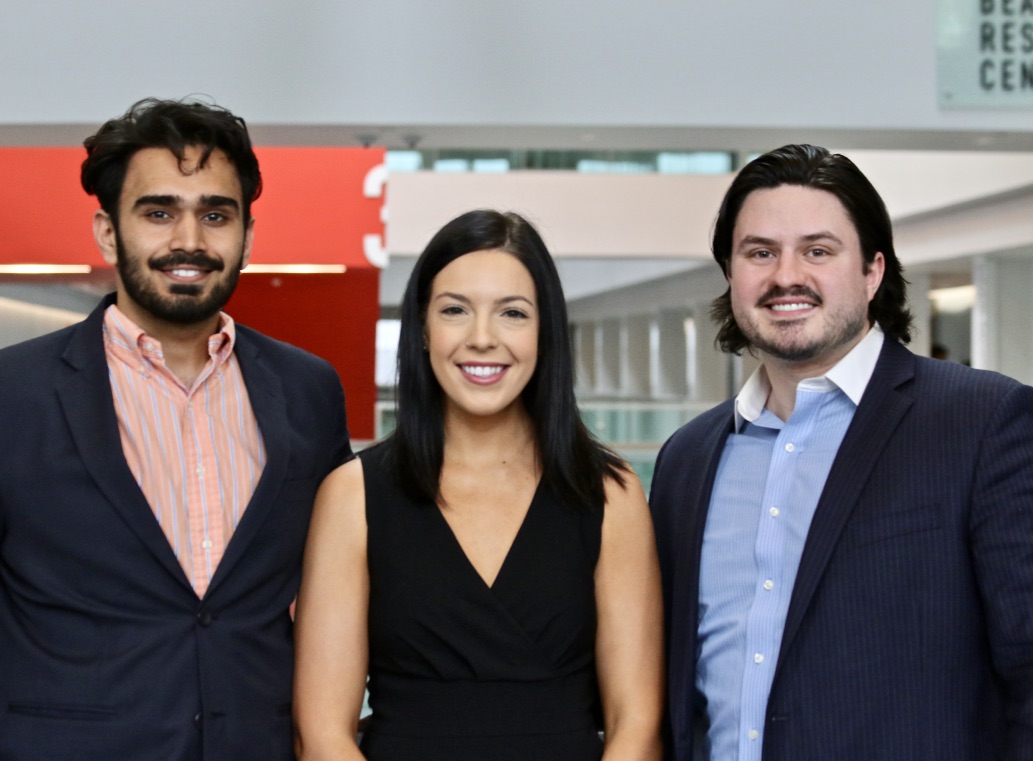 Kingston, Ont. – Four startups led by Smith Commerce and Master of Management Innovation & Entrepreneurship students won at the annual Dunin-Deshpande Summer Pitch Competition last week.
Backr, HeroHub, Cromble and Red Gold of Afghanistan were among seven new ventures to receive funding at the competition, Aug. 22, in Mitchell Hall.
Backr is a tool that promotes fan engagement while creating revenue for creators. Backr works alongside creators' existing social platforms and rewards fans for every act of engagement, motivating them to do more. Emily Campbell, BCom'19, and Miki Kawano, BCom'19, along with Duncan Cameron-Steinke, Sci'19, Pascal Girard, Sci'20, and Devash Saini, Sci'20, co-founded the tool. Backr won the largest sum this year and was awarded $30,000.
HeroHub is an online platform that creates greater social impact by connecting local charities and non-profits to people or businesses seeking volunteer opportunities, charity events, and to donate new or gently-used items. Chipewyan McCrimmon, MMIE'19, and Sundar Manku, MMIE'19, are behind the venture, along with Marina Radovanovic of Brock University. HeroHub received $15,000 from the competition.
Cromble works to divert 100 per cent of wasted spent grain — a byproduct of beer brewing — and uses it in creating a wide range of products, including health foods. Founded by Nick Chan, Comm'21, Evan McKenzie, Comm'21, with Erika Geoffrian, Sci'20, Faranak Sharifi-Babaki, Comp'21, and Janki Patel, MEng'20. Cromble took home $15,000. 
Red Gold of Afghanistan is helping female farmers in Afghanistan achieve financial independence by building their capacity in saffron cultivation and connecting them to global markets. It won $10,000. Red Gold's founders are Nazaneen Quaomi, MMIE'19, Mustafa Ansari, MMIE'19, and Herman Kaur, MEng'20. 
The Dunin-Deshpande Summer Pitch Competition is the largest of its kind in Kingston. 
Overall, 14 teams took part in the competition this year, each vying for a piece of $100,000 of total seed funding available to be won. Teams prepared for weeks before presenting their businesses to a panel of judges, making the case as to why they should receive seed funding.
In addition to Backr, HeroHub, Cromble and Red Gold of Afghanistan, five other participating teams included Smith students:
- LifeLuxe, a recreational and community management platform for retirement residences (Zoë Mitz, MMIE'19, Jesse Mastrangelo, MMIE'19, along with Kyra Grant, Sci'21); 
- InHabit Co-Living, a shared living space for young professionals, students and travellers (Alison Franchetto, MMIE'19, and Ray Cronin MMIE'19); 
- Nufuuds, a packaged goods company using algae to address the environmental burden of food and lack of quality nutrient sources in our diets (Devon Hawkins, BCom'19/Artsci'19, Alessa Amato, Artsci/PHE'19, Karthik Koppouravuri, Sci'19, and Trevor Page, Sci'19);
- Doppl, long-range smart sensor devices (Pranay Ramash, Comm'20, Erik Koning, Sci'19, and Quinn Pollock, Comp'20);
- Stepstool, hands-on workshops, tool lending library and online content to empower young adults to learn repair skills (Jessica Arthur, Comm'20, Jess Dassanayake, Comp'20, Maxwell Keleher, Comp'20, and Ally MacDonald, ArtSci'20).