New issue of Smith Magazine is now out
Posted on

July 5, 2019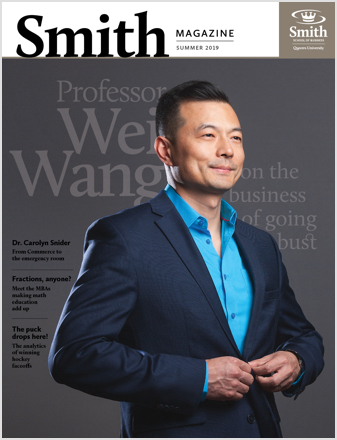 Kingston, Ont. –The summer edition of Smith Magazine is available in print and online for alumni and friends of the school.
Highlights in this issue include:
Professor Wei Wang on the big business that is bankruptcy and rescuing companies from the brink.
Better medicine: How Dr. Carolyn Snider, BCom'96, went from Commerce to a career in emergency medicine, and created a groundbreaking program to help young people escape violence.
The puck drops here: Nick Czuzoj-Shulman, MMA'17, is using analytics to show that in the new NHL, there's more to faceoff success than win percentage.
Accounting for people: A study in Canada's Far North led two Smith professors to put a more human face to accounting research.
StartUps Snapshot: Meet new ventures launched by Smith alumni. In this issue: The Gist, Workhaus and VegCheese.
Making sense of math: With Knowledgehook, Arthur Lui and Travis Ratnam, both MBA'11, are helping teachers (and students) make arithmetic add up.
First person: Caroline Pollock, MBA'19, talks about her career journey, from the military to earning her MBA.
Seeking tall returns: Robert Janson, MFin'13, went from playing volleyball in Europe to a career in finance. Now he's teaching Canadians about a different way to invest.
Plus, lots more in this issue of Smith Magazine.