Unfamiliarity with Diversity and Inclusion in Canadian Workplaces Underscores Need for More Work
Posted on February 26, 2019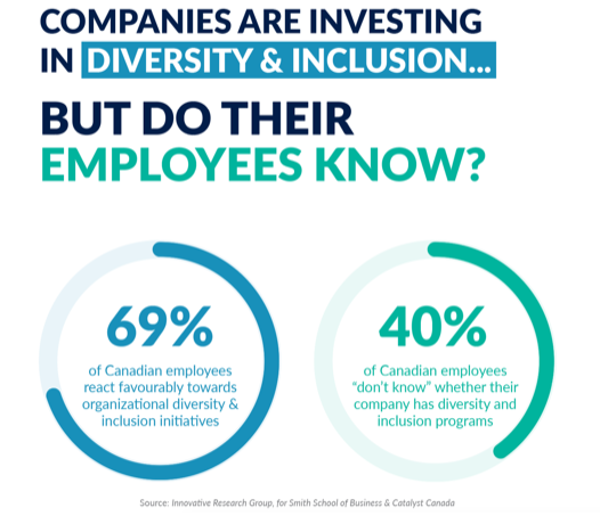 Smith School of Business and Catalyst Canada announce partnership
Kingston, Ont. – A new study commissioned by Smith School of Business and Catalyst Canada found that while a majority of working Canadians have positive attitudes towards diversity and inclusion programs (69%), many employees don't know whether their companies even have D&I initiatives (40%). Further, men are significantly more likely than women to believe that organizational diversity and inclusion initiatives are no longer necessary (33% of men vs. 20% of women) and that Canadian society is sufficiently inclusive (58% of men vs. 43% of women).
As an important step in solving organizational diversity and inclusion challenges, and to develop more inclusive leaders, Smith School of Business and Catalyst Canada, a global non-profit organization dedicated to advancing women in business, have announced a strategic partnership. 
"As a leading business school, we know the importance of developing leaders who can create and manage diverse and inclusive teams," said David Saunders, Dean, Smith School of Business at Queen's University. "We are proud to partner with Catalyst Canada to accelerate our shared goal of creating a more inclusive workforce."
The survey, which polled 1,000 working Canadians, also found that women working in organizations without D&I initiatives are less likely (65%) than men (79%) to report that they can be authentic at work without pretending to be someone else to fit in. This difference disappears in organizations that have diversity and inclusion initiatives.
Overall attitudes towards D&I initiatives are positive, with 70 per cent of Canadian employees believing that such initiatives help encourage all employees to reach their full potential.
"At Catalyst, we know that an increasingly diverse workforce powers innovation and measureable success," said Tanya van Biesen, Executive Director of Catalyst Canada. "And while companies may be investing money in diversity and inclusion initiatives, they can't achieve their full impact if more employees don't know about them. We need to help companies tell the story of the impact of D&I inside their organizations. Partnering with Smith enables us to reach a broader audience of Canadian managers and leaders – and now students – with training and thought leadership."
The partnership will focus on three key areas: a corporate discussion forum, research and training.
A membership-only corporate discussion forum will bring industry leaders, Smith faculty and Catalyst experts together to share best practices and challenges, with the aim of achieving greater inclusion in the workplace. A new research hub, led by Smith faculty, will harness the input of corporate Canada to create research on the new frontiers of diversity and inclusion. Participating companies will get first access to research findings.
Catalyst Canada will also help develop diversity and inclusion programming for working managers, which will be delivered through Queen's Executive Education. 
Additionally, Smith will integrate core content from Catalyst's inclusive leadership training into the academic curriculum for current students, including courses on building inclusive communication skills and how to manage unconscious bias in the workplace. Smith School of Business is a market leader in developing students' personal capabilities through SmithEdge. An important set of skills to help students thrive in the workforce, SmithEdge comprises three critical dimensions: insights on human dynamics; self-awareness and resilience; and experiential opportunities. This new content from Catalyst will help Smith's students develop the interpersonal skills needed for leadership roles in today's business environment.
"In order to make sustainable change, we need to activate many inclusion initiatives concurrently. There is no one silver bullet solution to creating more diverse and inclusive workplaces," noted van Biesen.
More details on training programs and how companies can join the corporate discussion forum and research forum will be announced later in 2019.
###
About Smith School of Business
Smith School of Business at Queen's University is renowned for its excellence, innovation and leadership in business education. From establishing the first undergraduate business degree a century ago to creating ground-breaking programs and courses in emerging areas including artificial intelligence, fintech, analytics, cultural diversity, team dynamics, social impact and more, Smith is at the forefront of preparing students for the business marketplace. In addition to its rich tradition of academic and teaching excellence, Smith is known for delivering an outstanding learning and development experience. Small class sizes, personal attention, individual and team coaching, opportunities for specialization, and a deep commitment to student success characterize the Smith experience.
About Queen's Executive Education
Queen's Executive Education (QEE) programs provide powerful tools for facilitating meaningful organizational change. As Canada's leader in executive education, QEE has been consistently ranked among the best in the world by the Financial Times. Clients from around the world have engaged QEE to find solutions in important areas, including: strategic planning and implementation processes, creating a high-performance culture, managing growth, fostering innovation, developing leadership, and many more.
About Catalyst
Catalyst is a global non-profit working with some of the world's most powerful CEOs and leading companies to help build workplaces that work for women. Founded in 1962, Catalyst drives change with pioneering research, practical tools and proven solutions to accelerate and advance women into leadership –because progress for women is progress for everyone.
For media inquiries:
Kristen Sears
Smith School of Business
613.533.6118 / k.sears@queensu.ca