Awards recognize excellence among Smith faculty and PhD students
Posted on November 27, 2019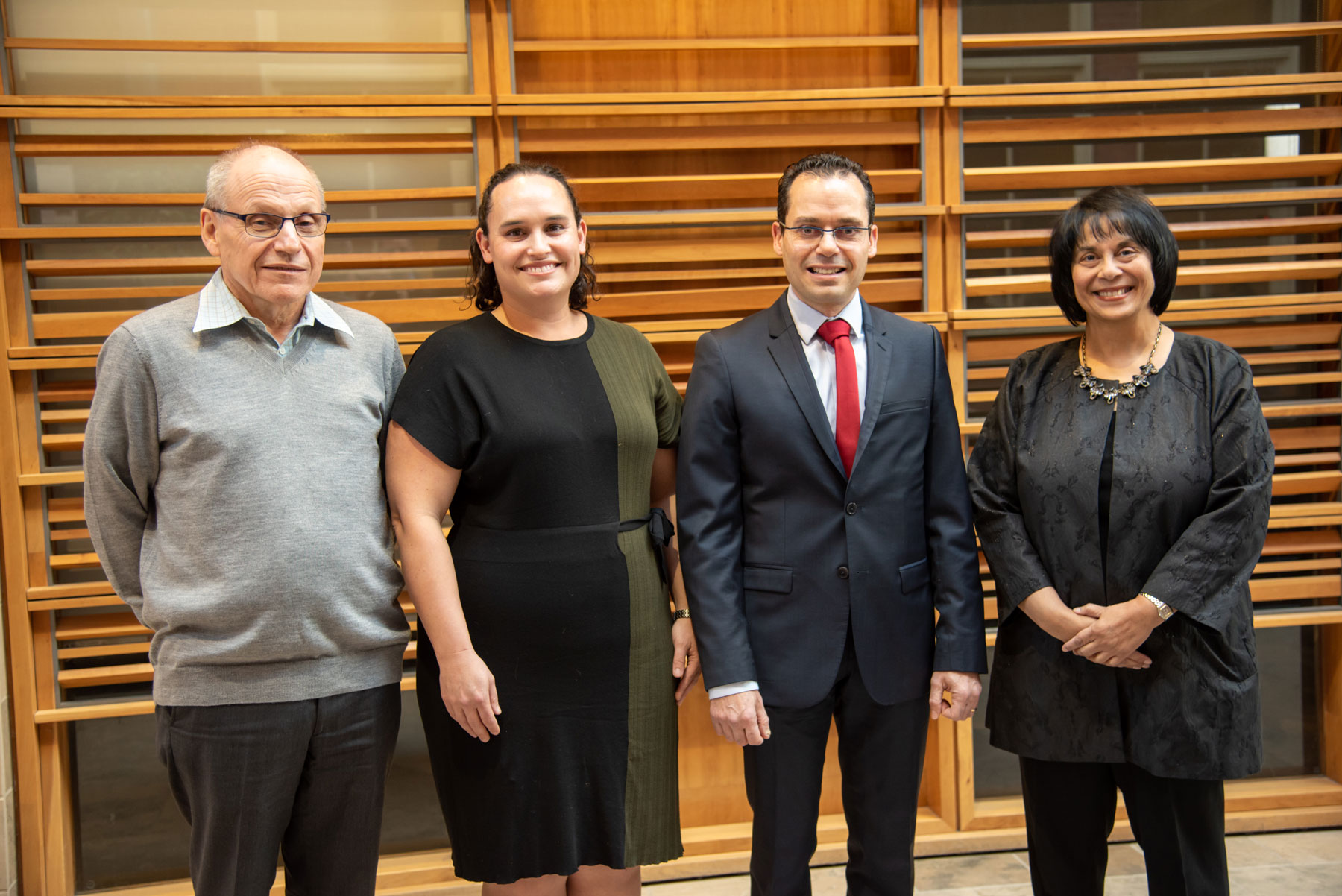 Kingston, Ont. – Four Smith School of Business faculty and three PhD students received awards for research, teaching and supervision earlier this month.
Among faculty, Tina Dacin and Shamel Addas were honoured for their academic research. Dacin won the 2019 Award for Research Excellence and Addas the New Researcher Achievement Award.
Professors Julian Barling and Tandy Thomas were acknowledged for their work with students in the PhD and MSc programs. Barling won the Research Supervision Award and Thomas the Teaching Excellence Award. 
Anika Cloutier and Ting (Carol) Li both received this year's PhD Student Research Excellence Award. Stephanie Kelley won the New PhD Student Research Excellence Award.
The awards were presented in Goodes Hall Nov. 13. Stephen Smith, whose $50-million gift to the school included significant funding to support faculty research as well as the establishment of Smith Chairs, attended and helped to present the awards.
Awards for faculty
Dacin, this year's recipient of the Award for Research Excellence, is also the Stephen J.R. Smith Chair of Strategy and Organizational Behaviour. She was cited for her past leadership of the school's Centre for Social Impact and impressive record of publications and external funding awards.
Her research interests include cultural heritage and traditions, community resilience, social innovation and entrepreneurship. "I've had amazing collaborative opportunities," Dacin said, adding that at Smith she is given "the luxury to study topics that are really meaningful to me."
The New Researcher Achievement Award recognizes a pre-tenure faculty member for outstanding research. Addas, this year's recipient, is assistant professor and Distinguished Faculty Fellow of Management Information Systems. He came to Smith in 2016.  
Addas's research examines the mixed effects of information technology on people at work and in healthcare. "I am especially interested in how IT use is related to attention allocation and the subsequent effects on performance," he says.
In accepting the award for teaching, Thomas, BCom'03, MSc'04, recalled her own experience as a graduate student at Smith and learning from "some of the very best professors." 
In particular, Thomas cited her MSc supervisor, Jay Handelman, associate professor and associate dean of faculty at Smith. "As a student, I remember going to Jay's class and being incredibly impressed by how well prepared he was," she said. "It's a privilege for me to train the next generation of scholars, and it's important for me that I do it well."
The Research Supervision Award is given to a deserving faculty member who has supervised Smith PhD or MSc students for at least three years during the last five-year period. The winner, Barling, who is the Borden Chair of Leadership, thanked his graduate students, who he said "challenge and inspire me. To work with such talented, motivated and wonderful young people is a gift."
His award, Barling said, was made extra special because he was receiving it at the same time that a graduate student he supervises, Anika Cloutier, was being recognized for her research. Pointing to Cloutier and her fellow PhD award winners, he added, "I know that the next generation of academia is in good hands."
Awards for PhD students
Cloutier and Carol Li, co-recipients of the PhD Student Research Excellence Award, both came to Smith in 2015.
Cloutier's research focuses on three main areas: leadership, mental health, and the work-family interface. She has published four papers and is co-author (with Julian Barling) of "Leaders' Mental Health at Work: Empirical, Methodological, and Policy Directions", published in the Journal of Occupational Health Psychology. 
"I am interested in exploring two questions related to leadership: One, who becomes a leader versus who does not? And two, why do some leaders behave well, and others badly?" Cloutier says. 
Li explores how digital technologies can be harnessed to promote entrepreneurial innovation in university-based business incubators. For example, how does the Internet of Things enable business model innovation? "I want to uncover the transforming impact of digital technologies on these incubators and improve their performance," she says.
Li has an article forthcoming in the Journal of Strategic Information Systems called "Dynamic Information Technology Capability: Concept Definition and Framework Development."
Stephanie Kelley, BCom'12, MMA'17, the New PhD Student Research Excellence Award winner, began working on her PhD two years ago after graduating from Smith's Master of Management Analytics program. She studies the ethics of analytics and artificial intelligence in organizations. She co-authored "A Code of Conduct for the Ethical Use of Artificial Intelligence in Canadian Financial Services", which has been adopted by several banks.  
"I am motivated to generate practical and relevant AI ethics research to help organizations understand and prevent those ethics challenges so they can continue to leverage the many benefits of using AI and analytics," she says. 
In receiving their awards the three students thanked their faculty supervisors: Barling (for Cloutier); Yolande Chan (Li) and Yuri Levin and David Saunders (Kelley).