Smith School of Business partners with Peking University on new double-degree undergraduate program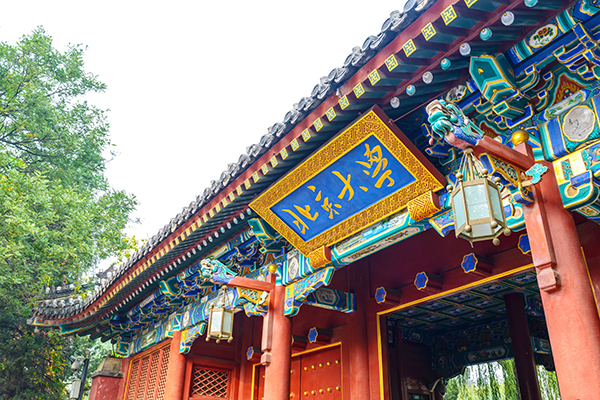 Kingston, Ont. – Smith School of Business at Queen's University and Guanghua School of Management at Peking University in Beijing, China, have announced a partnership that will see Commerce students from Smith study in China and earn two undergraduate degrees: one from Queen's University and the other from Peking University.
Up to five Smith Commerce students each year will be selected to take part in Peking University's "Future Leaders" International Undergraduate Program.
The students will spend two years studying in the Commerce program at Smith in Kingston, then two years at Peking University's Guanghua School of Management in Beijing, starting in fall 2020. They will earn a Bachelor of Commerce degree from Queen's University and a Bachelor of Arts in Management from Peking University. Classes are taught in English.
"This partnership will give Smith students the opportunity to experience first-hand China's fast-growing and dynamic economy," said David Saunders, Dean of Smith School of Business. "We are proud to partner with Peking University in our mission to develop outstanding leaders with a global perspective."
Through the partnership, Smith becomes a founding member of Peking University's "Future Leaders" program, alongside 13 other top universities from 13 countries and regions, including schools in Italy, the Netherlands, France, Germany, Brazil, Singapore, Japan and Israel. Smith Commerce students will study with students from these countries while attending classes in China.
Peking University launched the "Future Leaders" program in order to develop global leaders equipped with an intimate understanding of China, and who can navigate inter-country exchanges created through China's Belt and Road Initiative.
"The Belt and Road Initiative has injected new significance into globalization, and Peking University wants to give young people from around the world the opportunity to pursue their dreams while simultaneously making a contribution to the field of education," said Peking University President Hao Ping.
Earning two degrees from two leading universities will give Smith students with international career aspirations an advantage in the marketplace. Students will have a unique opportunity to develop a broad global management perspective and experience truly cross-cultural learning, both from classmates and professors.
With 115 top international business school partners in 38 countries around the world, Smith provides students across academic programs with the opportunity to study abroad through international exchanges, double-degree programs and global business projects. 
About Smith
Smith School of Business at Queen's University is renowned for its excellence, innovation and leadership in business education. From establishing the first undergraduate business degree a century ago to creating groundbreaking programs and courses in emerging areas including artificial intelligence, fintech, analytics, cultural diversity, entrepreneurship, team dynamics, social impact and more, Smith is at the forefront of preparing you for the business marketplace. In addition to its rich tradition of academic and teaching excellence, Smith is known for delivering an outstanding learning and development experience. Small class sizes, personal attention, individual and team coaching, opportunities for specialization, and a deep commitment to student success characterize the Smith experience.
About Peking University Guanghua School of Management
Peking University has been at the forefront of new ideas and innovations contributing to China's development since its founding in 1898. Grounded in this rich cultural legacy, the Guanghua School of Management has been pioneering business and management education and research in China for more than three decades, and its graduates continue on to become influential leaders across the globe. The school has been ranked one of the top business schools in Asia and operates over 40 research centres while also offering a comprehensive suite of academic programs including Bachelor's, Master's, Ph.D., and Executive Education. 
-30-
For media inquiries:
Kristen Sears
Smith School of Business
613.533.6118 / k.sears@queensu.ca