Meet the 2019 Dare to Dream recipients
Posted on

May 23, 2019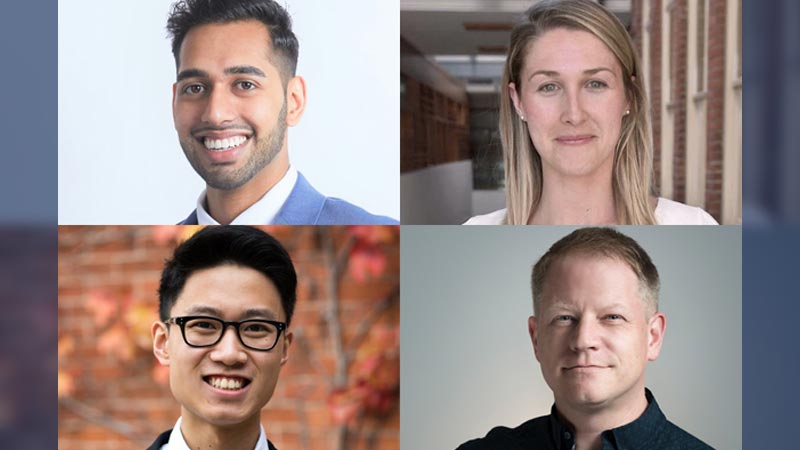 Kingston, Ont. – A digital platform that keeps cab drivers busy earning money. A tasty new milk substitute for cereal and coffee. These are some of the startups to receive financial support through this year's Dare to Dream program.
Run by the Queen's Centre for Business Venturing (QCBV), Dare to Dream helps companies founded by Smith students and alumni grow. Recipients receive $15,000 in funding, coaching, mentoring and access to office space, thanks to financial support from alumni and corporate donors.
"It's critical when companies are in their early stages that they get support to build their business and succeed. Dare to Dream is there to help make that happen," said JP Shearer, associate director of QCBV.
Four Dare to Dream recipients have been announced. They are:
Newton Zheng, BCom'19
Quickefi
Dare to Dream donors: Dany Battat, BCom'78, and Gia Steffensen, BCom'78
From camping equipment to cameras, 80 per cent of household items are used less than once a month. Why not earn money renting them out? That's the idea behind Quickefi. The company's online platform makes it easy for people to rent everyday items to others nearby. Zheng started the company last September with Dylan Brookes, Comp'20, and Jonathan Ge. For peace of mind, Quickefi provides insurance on all rentals.
Katie Callery, MMIE'17
Mad Oats
Dare to Dream donor: Valerie Mann, BCom'86
Mad Oats is a plant-based beverage company that specializes in oat milk – a dairy-free alternative for cereal, smoothies, baking and coffee. The smooth, creamy taste of oat milk is especially popular among coffee-bar customers and baristas, says Callery, who started Mad Oats last fall in Toronto. While dairy milk sales have been falling for years, plant-based milk sales are rising, she says. "You don't have to be a vegan or vegetarian to love our milks. Our aim is to provide healthy, delicious, plant-based options for anyone to enjoy." The company's first product will be out later this summer. 
Jasdeep Toor, MFin'19
CabTreks
Dare to Dream donor: CIBC
CabTreks solves two problems: Taxi drivers aren't as busy as they once were, thanks to ride-sharing services like Uber. Meanwhile, retailers struggle to meet demand for home delivery. CabTreks' digital platform links the two, allowing cabbies to make home deliveries for local stores. Toor started the company last November in Calgary. Today, it mainly focuses on pharmaceutical deliveries because, as Toor says, "small, local courier companies don't have the flexibility to accommodate the delivery needs of pharmacies."
Ryan Jamieson, EMBA'19
Otonomy
Dare to Dream donor: RLS Foundation
Otonomy is a matchmaking platform for buyers and sellers of small businesses. It's estimated that 47 per cent of small businesses in Canada will change ownership over the next five years as baby-boomer entrepreneurs retire. Meanwhile, half of Canadians say they want to be their own boss. Otonomy aims to be the place where current and future small-business owners connect, says Jamieson. He and business partner Paul Newton started the company in Vancouver last year.