Smith Founders' Pledge launches at UPstart Venture Challenge
Posted on December 10, 2018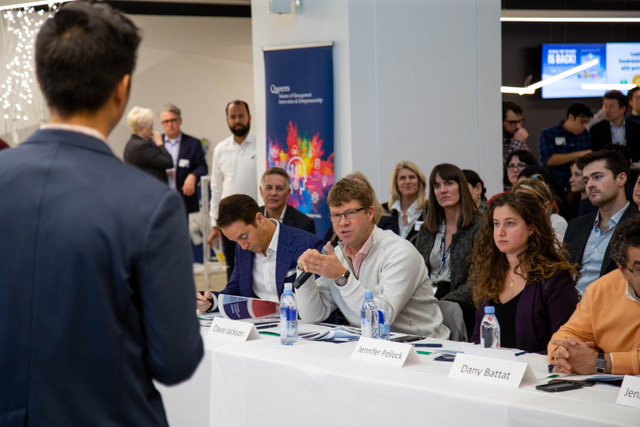 Toronto, Ont. – Smith Founders' Pledge, a new way for Smith alumni to support the next generation of entrepreneurs, was announced at the UPstart Venture Challenge on Dec. 4.

UPstart is an opportunity for alumni and students to pitch their business plans to a jury of experienced businesspeople. The competition, led by Queen's Venture Network, offers up to $30,000 in funding to budding entrepreneurs.   

This year, three pitches from Smith graduates received funding:
Lori Sroujian, AMBA'15, of VegCheese was awarded $15,000. The line of artisanal handcrafted vegan cheese are dairy, nut and gluten free.
Connie Lo, BCom'15, and Laura Burget of three ships (formerly NIU BODY) were awarded $10,000. The natural, certified cruelty-free and vegan skincare company is based in Toronto. Its products are already carried in over 300 retail locations.
Eric Zhang, MMIE'18, of Pastel Special Education was awarded $5,000. Pastel aims to support students with autism spectrum disorder. It uses online resources to build the capacity of teachers working with these students.  
Before the pitches began, the Smith Founders' Pledge was unveiled by Associate Dean Elspeth Murray, MBA'87, and Somen Mondal, MBA'06, who is chair of the pledge. The Smith Founders' Pledge is a way for alumni to make personal commitments to support Smith once their businesses take off or when they make successful exits from their companies.

Thinking about future-giving at an early stage is clearly top of mind for UPstart winner Connie Lo, who is also a founding pledge member. In addition to Connie, many alumni have pledged their commitment to support the school and inspire others to do the same. Founding pledge members include:
Somen Mondal, MBA'06 |Chair, Smith Founders' Pledge | co-founder and CEO, IDEAL; CEO, Field ID (acquired)
Tom Kinnear, BCom'66, LLD'02, PhD | Honorary Chair, Smith Founders' Pledge | serial entrepreneur and President, Venture Michigan Fund
Connie Lo, BCom'15 | co-founder, NIU BODY
Travis Ratnam, MBA'11 | co-founder and CEO, Knowledgehook Inc.
Erica Pearson, BCom'14 | co-founder and CEO, Vacation Fund
David Jackson, BCom'91 | owner and CEO, Hydropool Hot Tubs and Swim Spas
Marcus Daniels, MBA'05 | founding partner and CEO, Highline Beta
Robbie Mitchnick, Ryan Peterson, Cord McGee, Donald Gawel, all BCom'13 | co-founders, Q4Q Beer Company Ltd.
Smith Founders' Pledge and UPstart Venture Challenge increase the odds of success for future entrepreneurs, intrapreneurs and innovators from Smith School of Business, and help the Smith entrepreneurial network thrive.