Alumni honoured for philanthropic leadership
Posted on November 30, 2018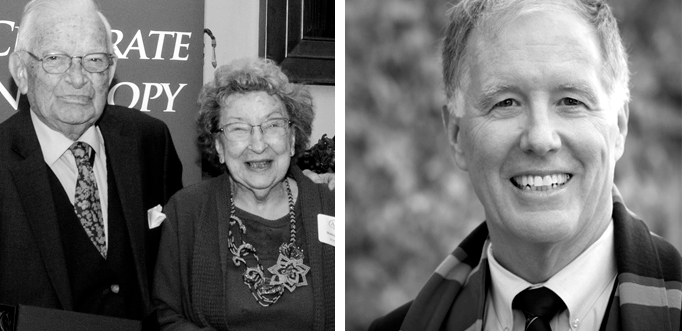 Kingston, Ont. – Three Queen's alumni with strong ties to Smith School of Business were recently recognized for their philanthropic contributions by the Association of Fundraising Professionals.
Jim Leech
Jim Leech, MBA'73, received the Outstanding Volunteer Award from the Greater Toronto Chapter of AFP on Nov. 21.
Since retiring as CEO of the Ontario Teachers' Pension Plan five years ago, Leech has focused on helping others.
He became the 14th chancellor of Queen's (a volunteer position) in July 2014. He is board chair for the Toronto General & Western Hospital Foundation and successfully led its $1-billion fundraising campaign.
He is chair of the Mastercard Foundation, the world's second-largest independent foundation (US$25 billion), which has projects in 29 countries in Africa. He was also part of an expedition that hiked to the magnetic North Pole in 2014, raising more than $2 million for the True Patriot Love Foundation in support of wounded veterans.
"I am honoured to receive this award. Volunteering is something I have been doing for most of my life. I enjoy helping others and feel everyone deserves the opportunity to succeed," Chancellor Leech said.
Chancellor Leech has been a Queen's volunteer for decades. He was a member of the Board of Trustees from 1984 to 1996, and served on the University Council from 1980 to 1984. He was part of the Initiative Campaign leadership team that helped the university raise $640 million. He is also a three-time chair of the Smith Advisory Board.  
John and Shirley Purkis
John Purkis, BCom'48, and his wife, Shirley, Artsci'41, received the 2018 Award for Outstanding Philanthropist by the South Eastern Ontario Association of Fundraising Professionals (AFP).
The award, presented Nov. 14, honours an individual or family who, through direct financial support, demonstrates outstanding civic and charitable responsibility and whose generosity encourages others to take on philanthropic roles.
The Purkises are longstanding volunteers at Queen's University, Smith and in the Kingston community.
Over the past 12 years, John has led his class of '48 to fundraise in support of students at Queen's. Under his leadership, the class reached a record-breaking $1.35 million in support of the Commerce '48 Admission Award. Their class endowment fund is ranked No. 3 in the university and No.1 in the business school.
Additionally, John has played essential roles on many university-wide initiatives, including the University Council and the Queen's Business Club.
Shirley also has a long volunteer history at Queen's, beginning with her role as president of the Queen's Alumni Kingston branch, followed by president of the Queen's Alumnae Association from 1984 to 1986.
Shirley was instrumental in creating the Ban Righ Centre and is a former president of the Queen's Women's Association. She has continued to give back through volunteer roles that include reunion co-ordinator and day-of-event volunteer for many Kingston branch events and Countdown to Queen's events.
"At the age of 101 and 99, John and Shirley continue to brighten up the room in every way and inspire everyone to be their best," said Shelley Hamill, senior relationship manager in the Development and Alumni Engagement department at Smith. "Everyone who has had the pleasure of working with John and Shirley over the years can agree that they are passionate volunteers who are a joy to work with. Their extraordinary dedication and commitment are an inspiration to those around them."
Outside of the university, John and Shirley have volunteered in Kingston. Both have held roles with the Agnes Etherington Gallery Association. They are honourary life members of the Kingston General Hospital Auxiliary and active in their church.