Ready for 2019? Smith expert predicts the economy ahead at Business Forecast Luncheon
Posted on December 6, 2018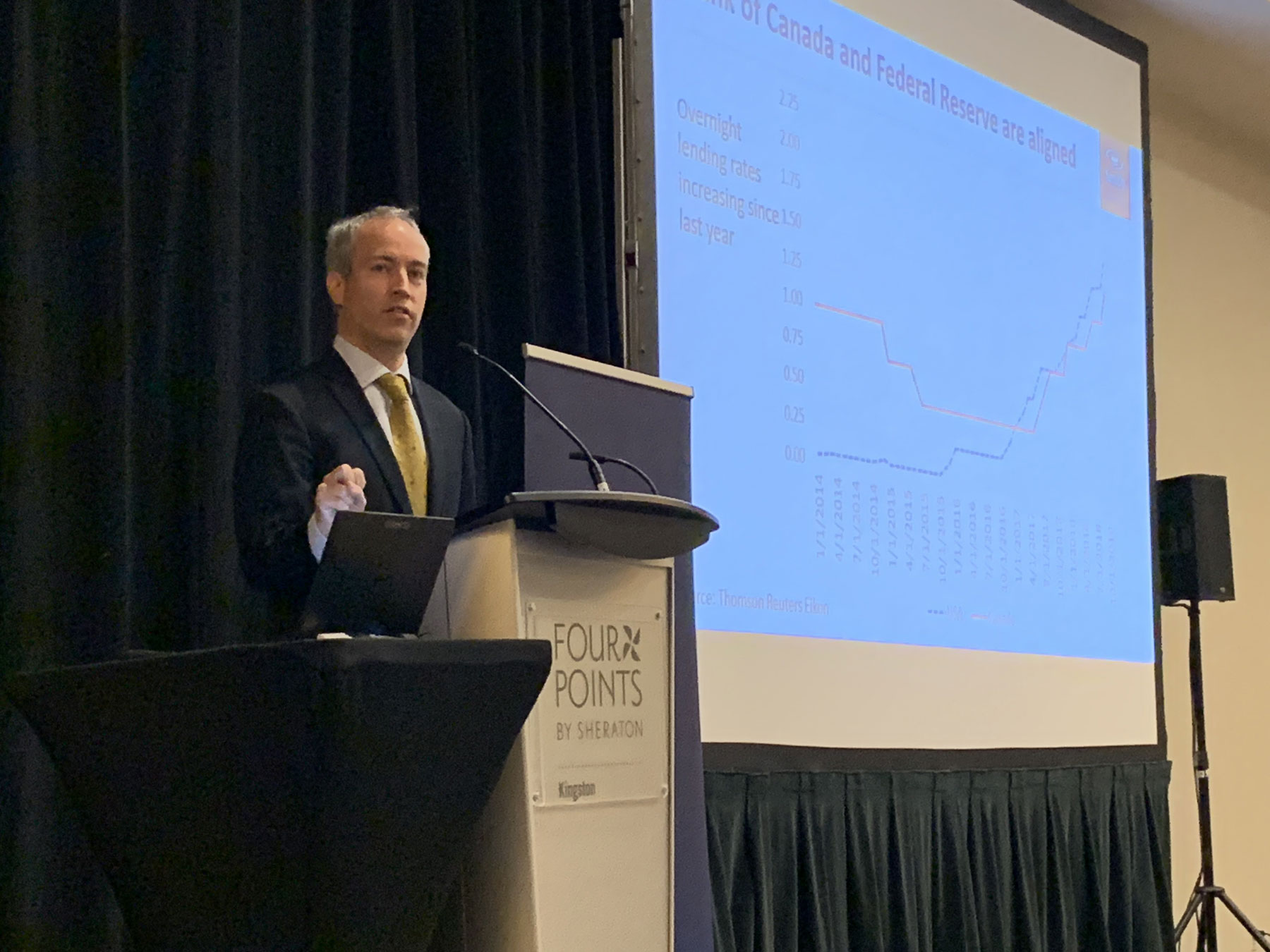 Kingston, Ont. – The Canadian economy will remain upbeat in 2019, despite falling oil prices and rising interest rates.
That's the prediction Evan Dudley, Associate Professor of Finance at Smith School of Business, made today at the school's annual Business Forecast Luncheon.
"The economy is pretty much at full capacity right now," he said, "but it's still going to grow."
Real gross domestic product will rise two per cent nationwide in 2019 — the same as this year.
Record-low unemployment of 5.8 per cent in October will fall to 5.75 per cent by October next year.
Deficit spending remains an important economic stimulator. "Neither Canada nor the U.S. seem interested in lowering their deficits," Dudley said. "That's why I still see room to grow, even though the economy is already doing really well." Ongoing worldwide demand for Canadian fuel, minerals and other resources will also contribute to growth.
After raising interest rates three times in the last year, the Bank of Canada will hike rates just twice next year (by 25 basis points each time). "It's going to err on the side of caution as long as oil prices remain low," Dudley said.
The central bank won't be as aggressive on rates as the U.S. Federal Reserve. As a result, the Canadian dollar will slide to 70 cents against its American counterpart by next December. (It's 75 cents now.)
Inflation, which stood at 2.4 per cent in October, will slow to two per cent next year. The prime interest rate will reach 4.45 per cent by next December, up from 3.95 per cent now.
Rising wages, falling home prices and Canadians' recent tendency to spend with debt signal an end to the current growth cycle. But Dudley anticipates a gradual slowdown rather than a sharp fall into recession.
He also doesn't believe the recent fall in oil prices will trigger a nationwide downturn. When oil fell in the past, so did the Canadian dollar. But that isn't happening now, Dudley said. "It tells me the Canadian economy has diversified away from the oil sands," which makes up around 1.9 per cent of GDP.
Smith's Business Forecast Luncheon at the Four Points by Sheraton in downtown Kingston drew more than 200 local business and government leaders. Speakers included Kingston Mayor Bryan Paterson and Smith professors Kathryn Brohman and Ken Wong.
Brohman discussed her research into organizational "cost of execution," the subject of her upcoming book, Shift: A New Mindset for Sustainable Execution.
Only 40 per cent of organizations successfully deliver on strategy, according to a 2012 survey. Why so low? Brohman determined to find out, studied hundreds of firms and uncovered 12 common barriers. They include poor prioritization, technology gaps, complacency and a silo mentality among employees.
One interesting observation that she noted: "People are extremely resourceful at finding ways to overcome execution barriers to achieve aggressive short-term goals." But sometimes long-term goals are sacrificed in the process.
Her book contains a tool used by more than 750 companies to identify execution barriers. It can also determine how much poor execution costs individual firms.
"A high cost of execution can result in a decrease in long-term performance," Brohman said.
The subject of strategy also came up when Mayor Paterson took to the stage for a fireside chat led by Professor Wong.
Paterson discussed his "smart growth" vision to tackle issues such as employment, transit, economic development, and, perhaps most important, housing. As of October, the city's rental vacancy rate was just 0.6 per cent, the lowest in Ontario and well below the city's 10-year average of 1.6 per cent.
Smart growth will allow Kingston to "achieve a number of goals all at the same time," the mayor said.
Paterson said he believes that smaller cities like Kingston can have an advantage over major cities as they can more easily "co-ordinate strategy and bring everyone around the table" to get things done. As an example, he cited the popular Kingston Penitentiary tours, which required co-ordinated effort by the city, Corrections Canada and the St. Lawrence Parks Commission to get off the ground.
Wong asked the mayor about potential cuts to municipal funding as the Ontario government looks to cut its deficit.
Paterson, who was re-elected to a second term as mayor in November, said he would like to see Ontario loosen certain regulations that, "restrict the creativity the city can have."
As an example, he cited development that, even after municipal approval, is sometimes held up for years by provincial authority. "If the government can let us be more flexible we can do a lot more with the dollars that we have," he said.
Kingston's economy will have grown 1.9 per cent in 2018, with unemployment at 5.5 per cent, according to the Conference Board of Canada.
"Kingston is becoming more attractive for students, retirees and also increasingly for professionals as new companies establish themselves here," Professor Dudley said.