Welcome to Smith Magazine — A new issue, a new name
Posted on February 22, 2016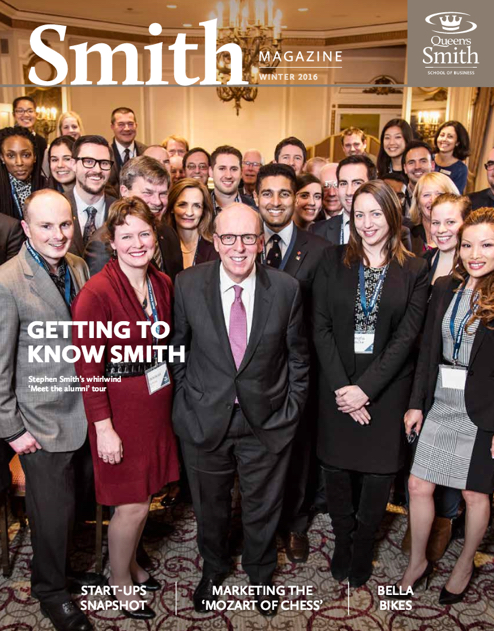 Kingston, ON — Feb. 22, 2016      Where QSB Magazine left off, Smith Magazine takes over in covering The J.R. Smith School of Business at Queen's. 
The inaugural Winter 2016 issue is available in print for alumni and friends of the school. The newly redesigned online version enables readers to immediately comment on stories, submit an update about a new business venture and search for classmates' updates or submit their own Alumni Note.
Highlights of this issue include:
Getting to Know Smith — A conversation with Stephen Smith, whose $50 million gift is transforming the business school. Watch the announcement video and highlights of Stephen's fall alumni tour.
The Unforgettable Mel Goodes — Goodes family funds Alzheimer's drug award.
Start-ups Snapshot — Alumni-led new ventures: an ad agency, a meal-delivery service and a math-learning tool.
Marketing the 'Mozart of Chess'  — Kate Murphy, MBA'11, heads up Magnus Carlsen's company to capitalize on the two-time world chess champion's star power.
Bella Bikes  — Helen Vasilevski, BCom'92, brings the Lamborghini of Italian motorcycles to a North American market as CEO of MV Agusta USA.
There's more, including an online shopper survey;   an update on recently profiled alumni Brenda Trenowden, BCom'89; Nik Nanos, EMBA'10; and Talon Lloyd, BCom'15; Alumni Notes;  Alumni News;  and the Dean's Message.