1st place finish for Commerce team at international case competition in Vancouver
Posted on February 18, 2016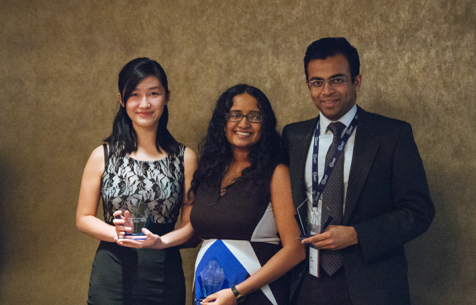 Kingston, ON - Feb. 18, 2016      Smith School of Business Commerce students Serena Li, Tusaani Kumaravadivel, both Comm'16, and Amit A. Kumar, Comm'17, took top honours at CASE IT, an international undergraduate business case competition focusing on Management Information Systems (MIS). This annual competition, hosted by Simon Fraser University, took place from Feb. 10 to 13 in Vancouver.
The team was coached by Assistant Professor Tracy Jenkin, who accompanied the students to the competition that drew 19 teams from around the world. Competing schools included Iowa State University, Copenhagen Business School and the Hong Kong University of Science and Technology.
After placing first in the preliminary round, the Smith team landed a berth in the finals. "Amit, Serena and Tusaani wowed the judges with the quality of their presentation," says Prof. Jenkin. "Their hard work, thorough analysis and clever solution certainly paid off. They're very deserving of the win."
The first place trophy was presented to the Smith team at the closing banquet on Feb. 13. Second place honours went to Copenhagen Business School with Corvinus University of Budapest placing third.