Two start-ups share $25K prize at Queen's Venture Network's UPstart Pitch Competition
Posted on February 10, 2016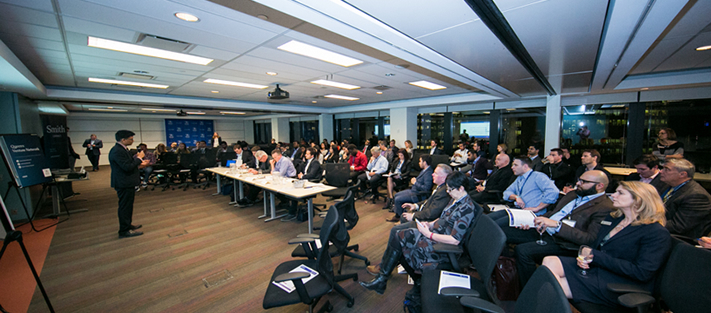 Kingston, ON - Feb. 10, 2016 - The suspense built as eight teams who'd pitched their new ventures to a panel of judges awaited the results of the first annual UpStart Pitch Competition. The event, held at Ernst & Young's Toronto offices on Feb. 4, was organized by the Queen's Venture Network (QVN). This Smith School of Business group offers networking and information-sharing opportunities for entrepreneurially minded Queen's alumni and current students.
The competition garnered applications from Queen's students and alumni that were narrowed down to the eight finalists invited to Toronto to make their pitches. At stake was a share in $25,000 donated by a graduate of Smith School of Business who prefers to remain anonymous.
Six of the teams knew in advance that they'd been selected and the final wildcard teams were chosen that evening in a blind draw. Each of the presenters brought passion and conviction to their four-minute pitches and ably handled the six-minute Q&A with the judges that followed.
The new ventures ran the gamut from an app that enables students on campus to pre-order their meals (Hangry), to a recruitment technology that streamlines an often paper-based process (TalentWiz).
In a final twist, the judges were given the discretion to decide on how the prize money was split. In the end, they were unanimous in their decision to award a first-place prize of $15,000 to Gryllies, a producer of protein products made from environmentally friendly and sustainable cricket flour. Second place, and $10,000, went to Lumos Energy Strips, a breath strip that provides an immediate hit of caffeine.
The event was made possible thanks to Ernst & Young hosts Colleen McMorrow and Mark Vrooman, Com'96; Ian Macdonald, Com'09, Co-Founder of beer sponsor Old Tomorrow; and Chris Simes, MBA'14, from wine sponsor Gallo.