January is prime time for ComSoc competitions and conferences
Posted on February 3, 2016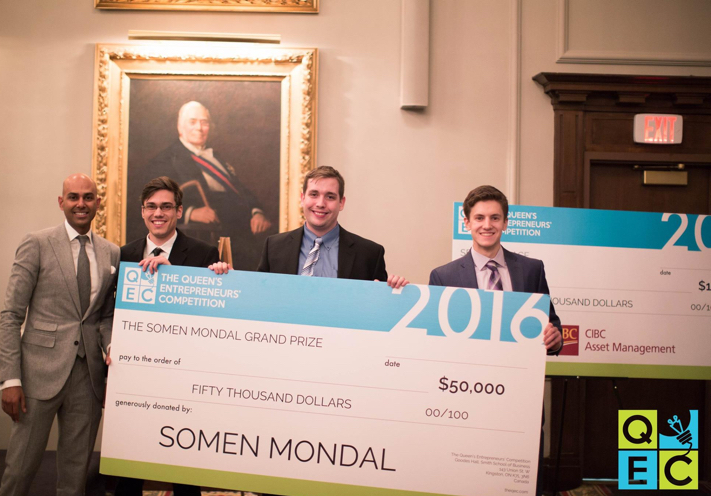 Kingston, ON - Feb. 3, 2016 
Hundreds of Commerce students were involved in organizing, hosting or competing in conferences and competitions held throughout the month of January.  These events, all supported by the Commerce Society (ComSoc), attract undergrad business students from across Canada and around the world.
Here are some highlights from each event:
QEC - Queen's Entrepreneurs' Competition this year featured a $50,000 first-place prize donated by Somen Mondal, MBA'06, to help propel this annual competition to the next level.  
I.C.B.C. - Queen's Inter-Collegiate Business Competition welcomed 150+ students in 48 teams from 20 Canadian and international business schools. Queen's Commerce team captured first place in the Marketing category.  Click here for all results.
QMAC - Queen's Marketing Association Conference offered two summer internship positions to the winning QMAC Challenge team, sponsored by Nestlé Canada.
Q3C - Queen's Commerce Corporate Challenge welcomed 75 delegates to this year's event to explore the theme 'Creating Something New'.
QSIC - Queen's Sports Industry Conference brought together 120 delegates for a weekend of networking with sports industry professionals and events, such as the Sportsnet-sponsored free-agency simulation.
QCIB - Queen's Conference on International Business, held in Toronto, focused on the theme, 'Redefining Globalization: Why International Isn't Enough". Keynote speakers included Paul Waldie, the Globe and Mail's Report on Business Editor, and Bill Morris, President of Accenture Canada.
QCEI - Queen's Conference on the Entertainment Industry, a new entry in ComSoc's calendar of events, featured a case competition sponsored by Scene.