QSB Magazine's winter issue now online
Posted on January 30, 2015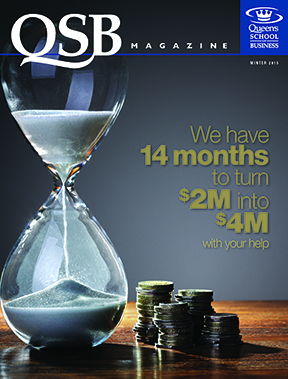 Kingston, ON – February 2, 2015  — The Winter 2015 issue of QSB Magazine, the publication for alumni and friends of QSB, is available in an interactive online version at ssb.ca/magazine.

Readers can comment on stories, submit an update about new business ventures started by alumni and students and search or submit Alumni Notes.
Highlights of this issue include:  
Be a Matchmaker — Launching a $2M gift-matching program on a fixed deadline.
A New Wave — Introducing seven new faculty members, with a personal twist.
Start-ups Snapshot — Alumni-led new ventures produce a treadmill desk, revolutionize colour 3D printing and simplify tax filing.
Vive la Résistance - To change!  — Peter Lawton, BCom'74, uncovers a dark chapter in Parisian history.
Up and Away — Inside Google's Project Loon ("Balloon-Powered Internet for Everyone") with Doug Wightman, BCom'04.
A Seat at the Table — Brenda Trenowden, BCom'89, champions increasing the number of women on corporate boards.
There's more, including the Dean's Message, school news, Alumni News, and a Homecoming 2014 update.
Feedback and suggestions are always welcome at qsbmagazine@business.queensu.ca