IBM-Smith "Business Value with Analytics" case competition winners show Canadian retailers the way to success
Posted on November 30, 2015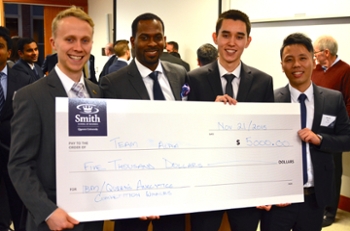 Kingston, ON - Nov. 30, 2015 
— After an intense eight-week marathon of business case exploration, collaboration and competition, the winning team that best answered the question, "What can analytics do for Canadian retailers" was announced on Nov. 21.  Team Alpha, comprised of Errol Muirhead, Steven Wu, Brandon Hewitt and Simon Campbell, all Smith Master of Management Analytics Class of 2016 students, edged out the other two finalist teams to take the grand prize of $5,000.
The competition was open to students from the Smith School of Business MBA, Master of Management Analytics (MMA) and Commerce programs, with a mix of cross-functional teams competing. This was the first iteration of a planned annual series entitled "Business Value with Analytics," — a joint IBM-Smith initiative. After the inaugural focus on the Canadian retail industry, the spotlight will shift to a different industry sector in subsequent years.
The unique format featured three distinct components:  
•    The kick-off in September of the IBM Analytics Boot Camp and Retail Analytics Panel, which featured retail industry and IBM senior managers and analytics specialists, including an IBM Watson Analytics expert (yes, the Watson cognitive computer that competed on
Jeopardy!
).
•    Preliminary competition in October, featuring business case presentations by teams to judging panels comprised of Smith School of Business faculty, alumni, IBM and industry experts who selected the top five finalist teams.
•    The finals, on Nov. 21, when the top five competed for first place honours in front of their peers and another panel of IBM, Smith and industry experts.
"Data in all its forms is expanding to become a resource to capitalize on," said IBM Canada President Dino Trevisani. "Advances in cognitive computing are enabling retailers to harness data, applying it to inform every decision, optimize every process and fuel every interaction. Congratulations to all competition participants. IBM is proud to partner with industry and academia on initiatives like this to foster innovative thinking."
For details about the competition visit
IBM's Annual "Business Value with Analytics" competition
.
Competition co-founders Pavel Abdur-Rahman, Senior Managing Consultant, IBM Business Analytics & Strategy, and Dean McKeown, Associate Director, Master of Management Analytics, Smith School of Business, will be expanding the competition in 2016.
Tags: