McDonald's Canada CEO talks coffee strategy with QSB students
Posted on

July 17, 2015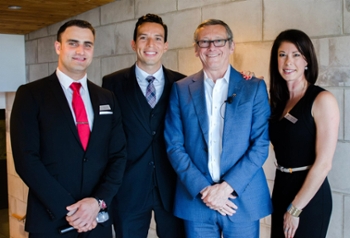 Kingston, ON – July 17, 2015 — When John Betts took the podium in the Goodes Commons on June 26, the Starbucks store in the corner didn't faze him. Now that McDonald's Canada has become a serious contender in the coffee segment of the fast food sector, its CEO is used to head-to-head competition.
His presentation attracted more than 100 MBA, Master of Finance and Graduate Diploma in Business students who were impressed at his openness and transparency. His remarks focused on the company's strategy for the future, including opportunities to reintroduce the element of surprise, and the challenges it has faced in increasing its share of the lucrative coffee business in Canada.
The event was hosted by the Queen's MBA Marketing Club, which provides students the opportunity to learn, connect and explore the marketing industry through speaker sessions, seminar series, and conferences.