QSB Magazine's summer issue now online
Posted on

July 2, 2015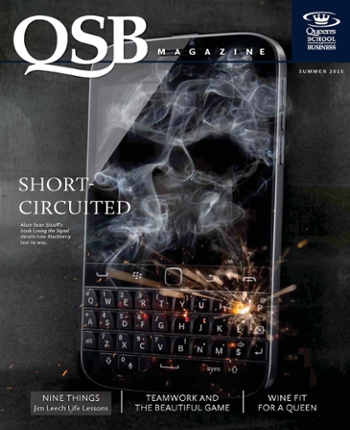 Kingston, ON – July 2, 2015 — Thanks to feedback from alumni who responded to a readership survey, the summer issue of QSB Magazine features a refreshed design.
The new issue is available in print for alumni and friends of Queen's School of Business. The online version enables readers to immediately comment on stories, submit an update about a new business venture and search for classmates' updates or submit their own Alumni Note.
Highlights of this issue include:
Short-Circuited — Excerpt from "Losing the Signal," a book about BlackBerry's struggles, by alum Sean Silcoff, BCom'92.
Teamwork (at work) and the Beautiful Game— QSB Professor Matthias Spitzmuller discusses similarities of workplace and soccer teams.
Start-ups Snapshot — Alumni-led new ventures: a parking app, shipping containers transformed into homes, and a compensation-management software.
Nine Things — Jim Leech promised his parents he'd never forget.
Anything but Black — Profile of Peng-Sang Cau, BCom'94, a survivor of Cambodia's killing fields and now a tech-CEO.
Wine fit for a Queen— Spencer Massie, EMBA'99, and his B.C. winery conquer London.
There's more, including school news, alumni event updates, and the Dean's Message on challenges facing the school's future.
Feedback and suggestions are always welcome at qsbmagazine@queensu.ca