Spring Convocation 2015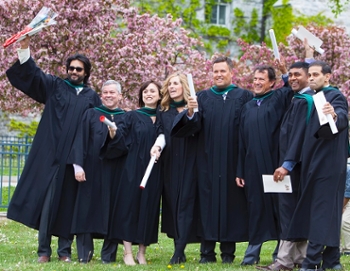 Kingston, ON — June 19, 2015 - New graduates were congratulated by family, friends, QSB faculty and staff at Convocation ceremonies held in late May and early June. Honorary speakers offered words of advice and encouragement as well as personal stories of success achieved and challenges surmounted. Click on the links below to read their inspirational remarks.
The Commerce, PhD and MSc Convocation ceremony on June 1 featured guest speaker Jeff Carney, BCom'84, President & CEO, Mackenzie Investments and Co-President & CEO, IGM Financial Inc., and member of QSB's Advisory Board. His principal message: "Anything is possible!"
Ian Friendly, BCom83, retired Executive VP & COO, U.S. Retail, General Mills, Inc., and member of QSB's Advisory Board, spoke at the May 21 ceremony for Master programs' graduates (Master of Finance, Master of International Business, Master of Management Analytics, Master of Public Administration, Master of Industrial Relations & Master of Urban and Regional Planning). One of his key pieces of advice to the graduates was, "Feed and pay heed to the little voice inside you."
Michael Kehoe, BCom'78, CEO, Cosmetica Laboratories Inc., member of the Queen's School of Business Advisory Board, addressed the May 22 ceremony for the graduating classes of QSB's Full-time MBA and Accelerated MBA for Business Graduates programs. He advised the new graduates to develop their own leadership model.
John Prato, MPA'89, MBA'91, Canada's Consul General to New York spoke at the graduation ceremony for graduates of the Executive MBA and the Cornell-Queen's Executive MBA, which is now known as the Executive MBA Americas program.  His speech focused on lessons learned in his work life, personal life and public life during his 25-year career.
Thousands of photos were taken over the course of the four ceremonies, some of which made it onto QSB's Facebook pages:
Commerce, PhD and MSc ceremony
Master programs (MFin, MIB, MMA, MPA, MIR & MPL) ceremony
Full-time MBA and Accelerated MBA ceremony
Executive MBA and Cornell-Queen's MBA ceremony