QSB Hosts Training Camp for Venture for Canada Fellows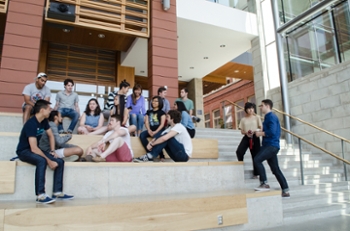 Kingston, ON - May 28, 2015 - A month-long training camp for young entrepreneurs kicked off this week when 25 Venture for Canada (VFC) Fellows descended on Goodes Hall. 
They came here to sharpen their skills before they begin a paid, two-year work placement with a start-up partner vetted by VFC. As the organization's founder and Executive Director Scott Stirrett explained in a QSB Magazine article, "Elite undergraduates want to work for dynamic, emerging businesses, but start-ups often lack the resources to participate in competitive on-campus recruiting."

Queen's School of Business—the exclusive academic partner of this not-for-profit organization—is responsible for delivering the intensive sessions led by the school's faculty and invited guest speakers.

The 25 Fellows, who were chosen after an intense interview process, hail from B.C., Ontario, Quebec and Nova Scotia, and are recent graduates of Johns Hopkins, McGill, Concordia, St. FX, Dalhousie, St. Mary's, Ryerson, U of T, Waterloo, Laurier, McMaster, Western, and Queen's universities.

"Queen's School of Business has been a great partner of Venture for Canada," says Scott.  "Its faculty and staff have gone the extra mile to ensure that our first Fellow Training Camp is a great success—with our Fellows learning from some of the best business instructors in the world."


Tags: []