Centre for Social Impact launches RECODE program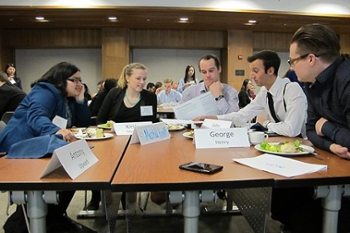 Thanks to funding by private foundation

Kingston, ON - March 23, 2015 - Queen's School of Business (QSB) Centre for Social Impact has launched a new interdisciplinary initiative aimed at creating, invoking and inspiring social change.
Designed to span across faculties and departments, Queen's RECODE will support the development of a social innovation zone on campus. Funded by the J.W. McConnell Family Foundation and matching private donations, this national program provides social innovation and entrepreneurship opportunities for college and university students to become drivers of progress and change.
With the RECODE funding, the QSB Centre for Social Impact will scan existing efforts on campus, convene a steering committee comprised of students, community, faculty and staff, and design interdisciplinary content and approaches to advance social innovation.
The program was officially launched at the Centre's annual Social Innovation Boot Camp, held March 13-14. A highlight was the launch of a pitch competition that enabled student teams to identify, design and test their social innovation ideas.
 "Heads Up," the team of Ara Dungca (Com'16), Kirsten MacMillan (Sci'17), Adam Beaudoin (Kin'15), John Sibbald (Com'18) and George Henry (EMBA'16), won the pitch competition and the People's Choice Award for their mobile app platform to improve students' mental health. Students would track their sleep, eating and studying habits and if there were any major deviations from their patterns – often an indication of a mental health issue – the app would prompt the student to reach out to a person they trust, and help set up a method of checking in on the student. The team received $1,250 of seed money  to continue developing its idea.
Read more in the Queen's Gazette story, "The business of making a difference."
Visit QSB Centre for Social Impact website for more information.

This is an edited version of the Queen's Gazette story by Mark Kerr, Senior Communications Officer, published May 18, 2015.