Queen's undergrads shine at Microsoft global competition
Posted on February 27, 2015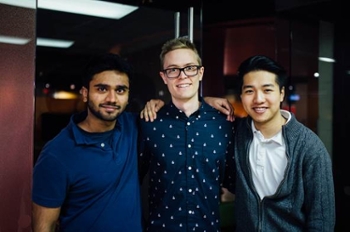 Kingston, ON – Feb. 27, 2015
- Two teams of Queen's Commerce and Computing students scored impressive results in the 2015 Microsoft ImagineCup competition. First prize in the
Blueprint Challenge
went to a team comprised of Eddie Wang, Comm'18, and Computing students Jake Alsemgeest and Zaeem Anwar (pictured). Their project plan won the $3,000 top prize in the World Citizenship category for Ciris, a real-time colour augmentation overlay that allows the colourblind to more clearly see contrasts on their desktop computers and mobile devices.
Microsoft's Imagine Cup is described as the world's premier student technology competition. Launched in 2003, this annual event attracts thousands of participants from around the world. The first phase of the competition, the
Pitch Video Challenge
, garnered an Honourable Mention in the Games Category for a Queen's team comprised of Alex De Rosa, Comm'15, and School of Computing students Susan Hwang, Tianbin Jiang and Gabrielle Quilliam.
Queen's participation in the ImagineCup is just one part of an initiative to team up Queen's Commerce and Computing students to develop innovative, marketable computer-based applications. QSB professors Brent Gallupe, Kathryn Brohman and Tracy Jenkin are leading QSB's role in this initiative, lending their expertise in coaching and mentoring student teams.