Social Innovation Bootcamp helps students create positive social change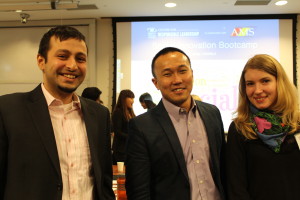 Kingston, March 20, 2014 - The QSB Centre for Responsible Leadership hosted its second Social Innovation Bootcamp at Goodes Hall March 14 to 15. This popular event attracted approximately 70 students from Queen's Commerce, MBA and Master of International Business programs, as well as those enrolled in Arts and Science and the School of Policy Studies.
This workshop was designed to enable students to create positive social change in their careers and in society, as well as to provide exposure to the new and growing field of social impact metrics and measurement.
The event began on Friday evening with a live case on the Ontario Lottery and Gaming Corporation, prepared and presented by Paul Pellizzari, Executive Director of Policy and Social Responsibility at OLG.
Saturday's events offered a mix of panel discussions, speaker presentations and live technology demonstrations. Presenters included Anshula Chowdhury, CEO, Social Assets Measurements; Wendy Cukier, VP, Research and Innovation, Ryerson University; Ashley Good, Founder/CEO, Fail Forward; Jessica Knox, CEO & Co-Founder, Teamwave; and Andreas Souvaliotis, Founder/Chairman, Social Change Rewards, and Chair of the Centre's External Advisory Board.
As one participant commented, "The Social Innovation Bootcamp was absolutely eye-opening. It is wonderful to be reminded that business not only creates profit, but also has the ability to create social good."
Based on the event's growth and positive attendee response, the Centre hopes to make this an annual event.