Sleep and Work: QSB Conference tallies the cost of fitful nights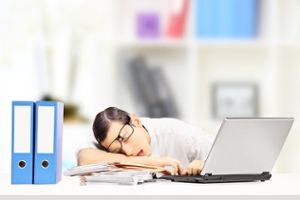 Kingston, ON — July 11, 2014 -
While being sleep-deprived is almost a badge of honour in today's hard-driving economy, researchers are now assessing the heavy toll it takes on employees and their organizations.
As attendees of the QSB-hosted Sleep and Work Conference discovered, insufficient sleep is being linked to a host of disturbing organizational outcomes, such as poor performance, unethical behaviour, "cyber-loafing" (idly surfing non-work related websites such as YouTube), and poor engagement.
The unique conference brought together management and sleep medicine scholars to discuss cutting-edge research and potential collaborations on the topic of sleep and work.
Christopher Barnes, of the University of Washington's Foster School of Business, says sleep deprivation is far more prevalent than most people think. About one-third of North Americans get fewer than six hours of sleep on any given night, a deficit that has been shown to make people vulnerable in a number of ways.
"There are two avenues through which the effects of lost sleep manifests in the workplace," says Barnes. "One is that people suffer from a lack of control over their ability to stay on task or behave ethically. Another is through mood. Lack of sleep leaves people more easily irritated, frustrated, aggressive, or depressed. We've shown that sleep quality on a given night influences abusive behaviour by the boss the next day."
David Wagner, of Singapore Management University, reported on his research that shows how law enforcement officers make faulty and prejudicial decisions on the Monday following the change to Daylight Saving Time. Larissa Barber, of Northern Illinois University, discussed a set of studies demonstrating that sleepiness biases workplace environment interpretations, with implications for employee stress and behaviour. Kevin Kelloway, of Saint Mary's University, showed how the quantity and quality of sleep affects an employee's safety-related behaviour, such as compliance with regulations.
The conference, held June 13 – 14,  was organized by Julian Barling, Queen's School of Business professor of organizational behaviour and Borden Chair of Leadership, along with Christopher Barnes, Erica Carleton (Ph.D. student at QSB), and David Wagner.