Queen's Entrepreneurs Competition celebrates 26th anniversary
Posted on

January 24, 2014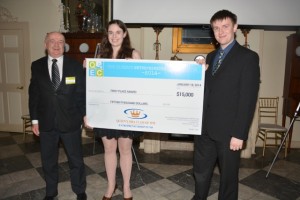 Kingston, ON – Jan. 24, 2014 – Finalist teams of Commerce students from across Canada were joined by those from Northern Arizona University and the Chinese University of Hong Kong at the final weekend of the 26th annual Queen's Entrepreneurs Competition on Jan. 17-19.
Jeffrey Ralphs, Comm'14, added to his Kinnear Business Plan Competition winnings by placing in two categories, taking home $5,000, for his KRG Racing venture, a paddling equipment company.
Keynote speakers included the QEC's founder, Meredith Van Binsbergen, BCom'90 ; Somen Mondal, MBA'06, founder of N4 Systems; and Jeffrey Histed, BCom'86, co-founder of Northstar Research Partners. Among the 26 judges were many QSB alumni. Sponsors included the Queen's MBA Class of 1970, QSB Centre for Business Venturing, LoyaltyOne, Constellation Brands, and ExperiencePoint.
Award winners
First Place ($15K) and Sustainability Award ($1K): Emily Hicks and Robert Mayall (University of Calgary)
Second Place ($6K) & Innovation Award ($1K): Alroy Almeida and James Pickard (University of Waterloo)
Third Place ($4K): Jeffrey Ralphs (QSB)
Generative Learning Awards – $1K each for teams showing evidence of growth from learning from their mistakes and experiences: Jeffrey Ralphs (QSB), Christopher Sharp (Waterloo) and Sunny Yu, Michael Ng, Veronica Lau, and Stirling Poon (Chinese University of Hong Kong).