Queen's Business Review — Inaugural issue launched by Commerce students
Posted on February 14, 2014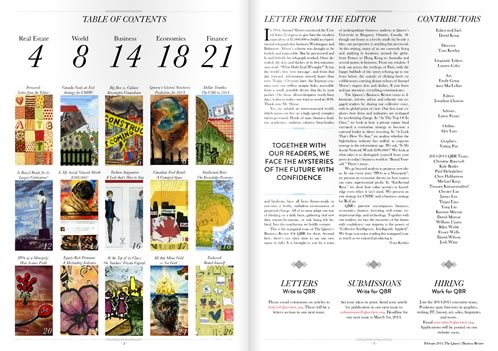 Kingston — Feb. 14, 2014
A polished new publication — designed, written and produced by a team of 22 Commerce students — debuted on Feb. 5. The Queen's Business Review (QBR) is an online and print publication that covers a range of topics, including economics, finance, investing, market commentary, government policy, entrepreneurship, and technology. "Collective intelligence, intelligently applied" is its guiding principle.
Articles in the inaugural issue cover a variety of subjects, such as a proposed exit strategy for Canada Mortgage and Housing, and an analysis of the value of social networks ("Is My Social Network Worth $180,000?"). The original illustrations that accompany each article were contributed by students in the Fine Arts department.
With the financial support of the Commerce Society, and revenue from advertisers and supporters, the QBR plans to publish at least two issues per year. Visit www.qbreview.org to access online content, submit story proposals or to get involved.