QSB Year in Review now online with web-extras
Posted on September 29, 2014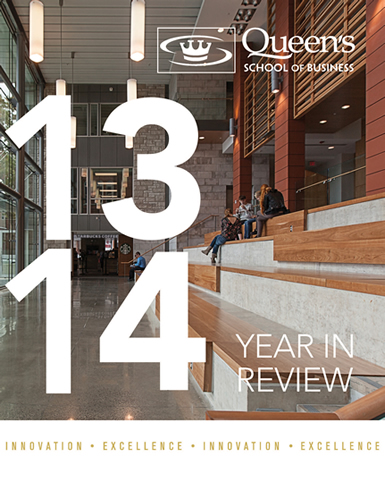 Sept. 29, 2014 - The 2013/2014 Year in Review is now online, with additional material that complements the print edition recently mailed to alumni and friends of Queen's School of Business. This annual publication highlights the many accomplishments and milestones achieved at the school in the previous fiscal year.
Web extras include:
Alumni Volunteers — Take a bow, alumni from all programs, who supported student conferences, competitions, recruiting and alumni engagement activities, and much more.
Visiting Scholars — Check out the list of distinguished faculty who visited QSB in 2013/14. Includes professors from Harvard to the University of New South Wales in Sydney, Australia.
Commerce student pledgers — Be impressed by the Commerce students (five pages worth!) who paid an optional annual fee of $97.50 that will generate $1.2 million over ten years in support of the Goodes Hall expansion.
Tags: []