QSB Magazine's summer issue now online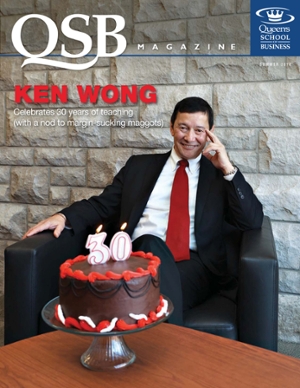 Kingston, ON – July 2, 2014  - The Summer 2014 issue of QSB Magazine, the publication for alumni and friends of QSB, is available in an interactive online version at qsb.ca/magazine.

Readers can comment on stories, submit an update about new business ventures started by alumni and students and search or submit Alumni Notes.
Highlights of this issue include:  
The Incredible Shrinking Marketer - Prof. Ken Wong reflects on his career in marketing after 30 years on the QSB faculty
Introducing The Queen's Business Review – The Commerce Society launches a new print and online magazine
Start-ups Snapshot - Lessons learned by founders of new ventures led by three QSB alumni
Nanos by the Numbers - Nik Nanos, EMBA'10, Canada's most precise opinion pollster is profiled
Business is Booming, Unfortunately - Saundra Shapiro, EMBA'01, has built a business on her compassion for women undergoing cancer treatments
Dynamic Duo - Jeff Gallant and Kyle MacDonald, both BCom'11s, launch Capitalize for Kids, an investor conference benefiting SickKids hospital
There's more, including the Dean's Message, School news, Alumni Notes and News, and the Parting Shot of new Commerce grads about to embark on their careers.
Feedback and suggestions are always welcome at qsbmagazine@business.queensu.ca