International business conference draws undergrads from around the world
Posted on

January 28, 2014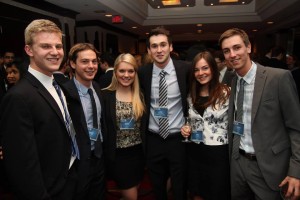 Toronto, ON – Jan. 28, 2014
– Commerce students from Australia to Austria networked with their Canadian counterparts in Toronto when they attended the Commerce Society-sponsored Queen's Conference on International Business on Jan. 17 to 19.
The theme of this annual conference, now in its seventh year, was "Evolving Global Markets: Canada's Place and Opportunity." A new addition was the global markets case simulation that complemented the regular line-up of Canadian and international guest speakers and panellists. Organizers also unveiled a QCIB smartphone app that enhanced the experience for the 88 delegates and numerous QSB student volunteers.
Student delegates made the most of the networking and learning opportunities the conference provided. Delegates represented the following universities: Queen's, Concordia,York, Western, Ryerson, UBC, McMaster, EBS Universitat Germany, The University of Western Australia, Vienna University of Economics and Business, University of Strathclyde, and Maastricht University.