ComSoc's full slate of November events
Posted on

November 28, 2014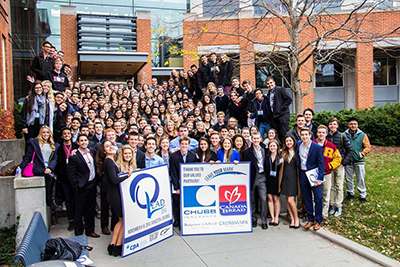 Nov. 28, 2014 – Kingston  November is the busy season for the Commerce Society, with students presenting six conferences and competitions. These events attract business students from across Canada and around the world and provide leadership experience for the Commerce student volunteers organizers.
Judging from the attendance numbers and enthusiasm of the participants, each of the following events were highly successful.
QBET - Queen's Conference on the Business Environment Today was held Oct 30 to Nov 1. Highlights included presentations from Shawn Mandel, Vice President, Telus Digital, and Jeff Weshler, General Manager for Expansion, Uber Canada. QBET's theme, "Bridging the Gap Between Company and Consumer," explored the growing movement of businesses becoming more personable in order to connect with consumers on a deeper level.
QWIL - Queen's Women in Leadership adopted the theme "Inspiring Initiative" at its conference Nov. 6 – 9. Its keynote speakers Arlene Dickinson (CEO of Venture Communications and YouInc.com) and Sharon MacLeod (VP Marketing, Unilever Canada) certainly inspired the 100 delegates in attendance. Other highlights included networking events, industry workshops and a case challenge sponsored by PwC and HBC.
QLEAD - Queen's Leadership, Excellence and Development Conference ran from Nov. 6 to 9 and attracted 150 high school students from across Canada. The theme chosen by ComSoc organizers was "Leave Your Mark", a topic addressed by such speakers as Chris Terrio, President and CEO of Crossmark Canada, and Morgan Campbell, BA'12, former AMS President.
QBFFI - Queen's Business Forum on the Fashion Industry celebrated its 10th anniversary Nov. 13 – 16 with the theme "The Industry Behind the Image". Keynote speakers included Laura Gatsos, PR Director of Michael Kors Canada, and Joanne Barresi, General Merchandise Manager of TJX Canada. A highlight was a case challenge sponsored by Maison D'Eva.
QFAC - Queen's Finance Association Conference took place Nov. 13 – 16 at Toronto's Fairmont Royal York Hotel. Speakers included Jim Leech, Queen's Chancellor and former CEO, Ontario Teachers' Pension Plan, who delivered the keynote address; Scott Lawrence, Managing Director, CPP Investment Board; Michael Castellarin, BCom'95, Managing Director, Clairvest Group; Brian Hanson, Managing Partner, Versus Partners; David Hay, Vice Chairman, CIBC World Markets; and Stuart Smith, SVP Dundee Capital Markets.
DECA Queen's Invitational Conference - More than 140 students from business schools across Canada descended on Goodes Hall from Nov. 14 – 16. Highlights included a charity case supporting Martha's Table, two rounds of case competitions, professional workshops and speaker presentations.