Classes begin in Beijing for inaugural Queen's-Renmin Master of Finance students
Posted on

September 12, 2014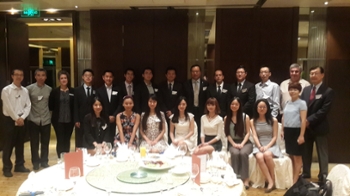 Kingston, ON - Sept. 12, 2014 - QSB faculty, staff and invited dignitaries welcomed the first students to the Queen's-Renmin Master of Finance program on September 6 in Beijing.  Shown are 14 of the 17 students with the program's director, QSB Professor Wei Wang (top row, eighth from left) and officials from Queen's, including QSB Finance professor Tom Anger (top row, second from right),  Dr. Zhiyao Zhang, Queen's China Liaison Officer (top row, second from left), and Emily Mantha, Program Manager (top row, third from left). Representatives of the Canadian Embassy, BMO, the Canada China Business Council, and Hanqing Advanced Institute of Economics and Finance also attended the welcome dinner. 
The Queen's-Renmin program is the school's first QSB offering in China, the result of a partnership between QSB and Renmin University's Hanqing Advanced Institute of Economics and Finance. Classes are taught, in English, by members of both faculties.  Students also have the option to travel to Canada for one of the Queen's-led courses.

Graduates from the program will receive a Queen's Master of Finance degree and a graduation certificate from Renmin University.  

Visit www.qsb.ca/mfin_beijing for more information.