QSB Students runners up in Next Top Ad Execs competition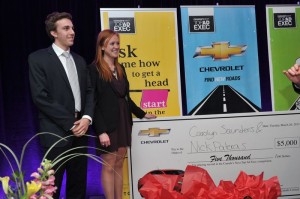 TORONTO, ON – Mar. 26, 2013 – Two QSB Commerce students captured second place honours at the seventh annual Canada's Next Top Ad Exec (CNTAE) competition. Carolyn Saunders and Nick Pateras shared $5,000 in scholarship funding from Chevrolet Canada as well as a Microsoft prize package.
This nationwide case-study competition drew 200 entries from students at 30 universities, so the competition was fierce. Contestants were tasked with developing a marketing plan for the 2013 Chevrolet Equinox in Canada.  Two students from the University of Guelph won the grand prize of two 2013 Chevrolet Cruz LTZ RS.
The CNTAE competition is dedicated to providing experiential learning opportunities for students interested in the marketing and advertising industry. The top ten finalists had the opportunity to interview for internships offered by GM, PepsiCo and Canadian Tire.
The competition is entirely student-run with the support of sponsors and advisors. For more information, visit http://www.topadexec.com, http://www.facebook.com/TopAdExec, or follow the competition on Twitter at @TopAdExec.