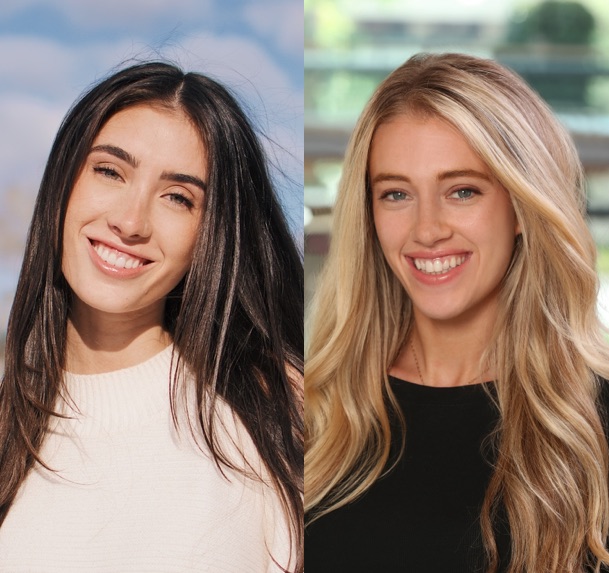 Support can come from many places: from family, from a caring professor — and from donors who commit to helping students focus on their studies rather than having them worry about tuition and the other costs of getting a good education.
Financial support allowed sisters Mila MacCuish, BCom'21, and Caitlin MacCuish, GDB'16, MBA'23, Artsci'16, to attend Smith. Though recent graduates, Mila and Caitlin, who are Métis from Calgary, have already decided to give back by supporting the very award that helped Mila study at Smith: the Upadhya Family Indigenous Award, created by Gaurav Upadhya, BCom'91.
Mila (left in photo) still remembers receiving the email informing her that she was the first-ever recipient of the Upadhya award. The financial support she got was a boost, but so was the chance to meet Gaurav. "That changed the trajectory of my career," she recalls. "At that point I felt lost in terms of what I wanted to do. So we chatted, and Gaurav said, 'How do you feel about finance and banking?' The advice he gave me that day really pushed me to get out of my comfort zone." Today, she works at RBC.
Caitlin entered the Full-time MBA program after working for several years. She had already spent some time at Smith, having earned her Graduate Diploma in Business after graduating from Queen's. Smith, she says, was an amazing educational experience and the MBA program helped her to land her first job in finance, at CIBC.
Like Mila, Caitlin received an award for Indigenous students (the Smith School of Business Scholarship for Indigenous Students). "It took the burden of tuition off so I could use the extra funds for living expenses," she says, adding that she likes the fact that Indigenous students are automatically considered for these awards, removing the barriers of awareness and application.
Having received support to attend Smith, both Caitlin and Mila were eager to help future students. "We had always wanted to give back to Queen's from a diversity perspective," says Mila. "Originally, we wanted to set up our own scholarship, but then we realized we could continue the circle by contributing to Gaurav's award. So when we were given the option, we went for it. It felt right to be part of his mission and build on that impact."
Gaurav named the Upadhya Family Indigenous Award in honour of his parents, who moved to Canada from India when Gaurav was 12 years old. "Like a lot of immigrants, when I came to Canada I didn't know about the relationships between Indigenous people and the general culture," he says. "But my mom was good friends with a lady who was Métis, and later on my mother and father were foster parents to Indigenous children with special needs." So, in creating the award, he decided to direct his gift toward Indigenous students.
Today, Gaurav says he looks forward to meeting award recipients whenever he can. Mila set that precedent. Gaurav was especially touched to hear from her as the first award winner. "She sent me a really nice note telling me how much the scholarship meant to her," he recalls. Later, they met for lunch and Gaurav says that he's been keen to watch her success. "She's really doing well and just what we'd hope to see: someone who is bright with a great education from Smith and is now focused on not only growing her career but also giving back to the community."
For their part, Mila and Caitlin are happy to have found a way to give back. Along with their brother Cameron MacCuish, Artsci'20, Mila and Caitlin plan to not only continue contributing but possibly grow their efforts for the Upadhya award, potentially adding a more formal mentorship element or other components.
They're glad to contribute to an established effort and to work with Gaurav. "We want to give back in different ways, and he's open to different ideas," says Caitlin. "It's great that there's an infrastructure there already."
Mila adds that she's pleased to be able to give back as a recent graduate. "It's important to start. We had this idea, and we didn't want to have to wait until we're fifty. Now with each year, we can contribute a bit more as we're able."