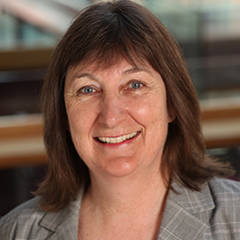 Webster, Jane
Professor Emeritus & E. Marie Shantz Chair of Digital Technology
Jane Webster received her PhD from the Stern School of Business at New York University and is currently a Professor of management information systems at Smith School of Business. She was previously an Associate Professor at the University of Waterloo.
Dr. Webster's current research concerns information systems and technologies to support environmental sustainability.  She has also investigated the impacts of technologies for distributed work, team effectiveness, organizational communication, employee recruitment and selection, employee monitoring, and training and learning. In 2003, Dr. Webster received the Smith School of Business Research Excellence Award.
Dr. Webster has served as a senior editor for MIS Quarterly, and has published in a variety of journals including the Academy of Management Journal, Communication Research, Information Systems Research, Journal of Organizational Behavior, MIS Quarterly, and Organization Science.
Specialty: Management Information Systems
Subject: Digital Technology
Room: Goodes Hall Room 408 West Wing
Phone: (613) 533-3163
Fax: (613) 533-2744
Email: jane.webster@queensu.ca
Download CV
Download Image